Design
Digital Experiences
Pro Sports Facilities
Inside Look:  PGA of America's New Frisco HQ—and Its Multibillion-Dollar Impact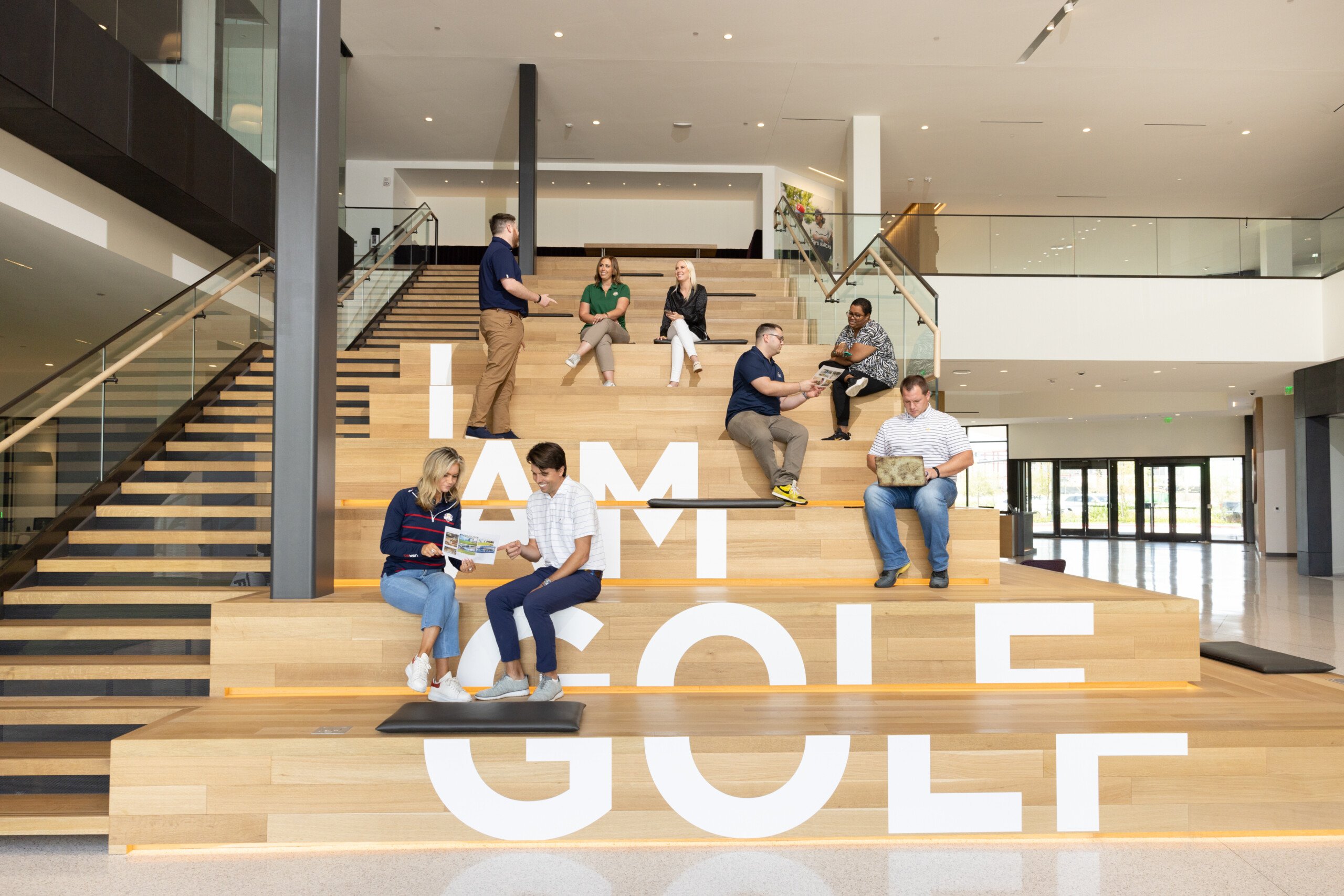 DMagazine, Thursday, August 25, 2022
by Ben Swanger
Gallery Courtesy of PGA of America
Over the next 20 years, the Frisco Economic Development Corp. forecasts that the new 600-acre, 106,000-square-foot, PGA Frisco mixed-use campus will generate $2.5 billion in economic impact. PGA of America CEO Seth Waugh is more bullish.
"Frankly, I think that number is low," he told D CEO. "And in Texas, things happen in a hurry. I could see that mark being hit in five to 10 years."
As Waugh helms the freshly minted headquarters—which was celebrated with a "Welcome Home" party on Aug. 22—at the top of his list of priorities is making golf look more like our diverse world.
"Our goal with our junior league is to give every kid that wants to play golf a scholarship," Waugh said. "We're getting funding from the U.S. government to grow our veteran's program. We're building urban golf parks and will soon award grants and loans to help struggling schools. And, of course, we have our PGA WORKS Collegiate Championship, which essentially is an HBCU national championship. Our goal is to endow every single HBCU program in America. You have no growth story if you're not trying to grow in underserved communities."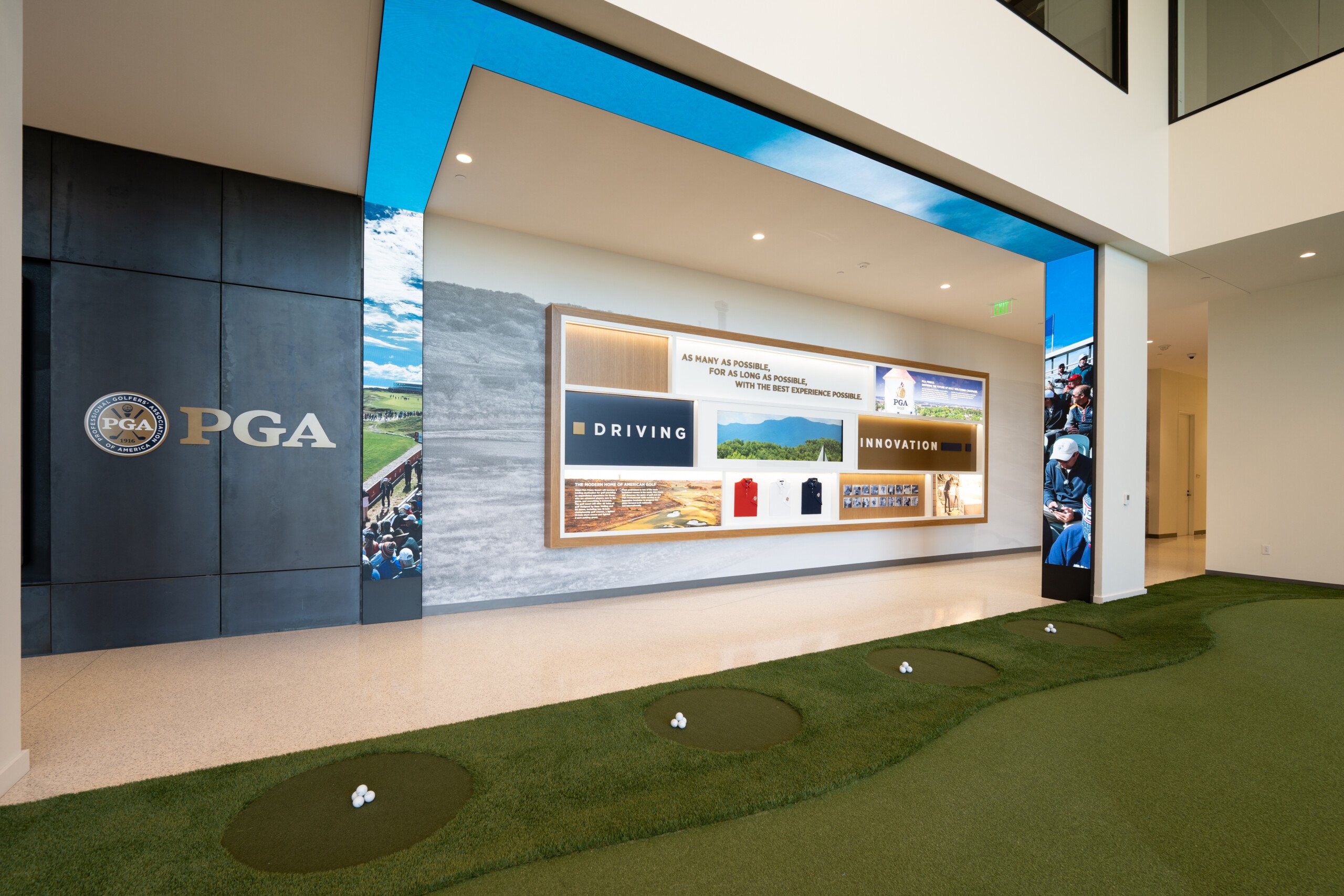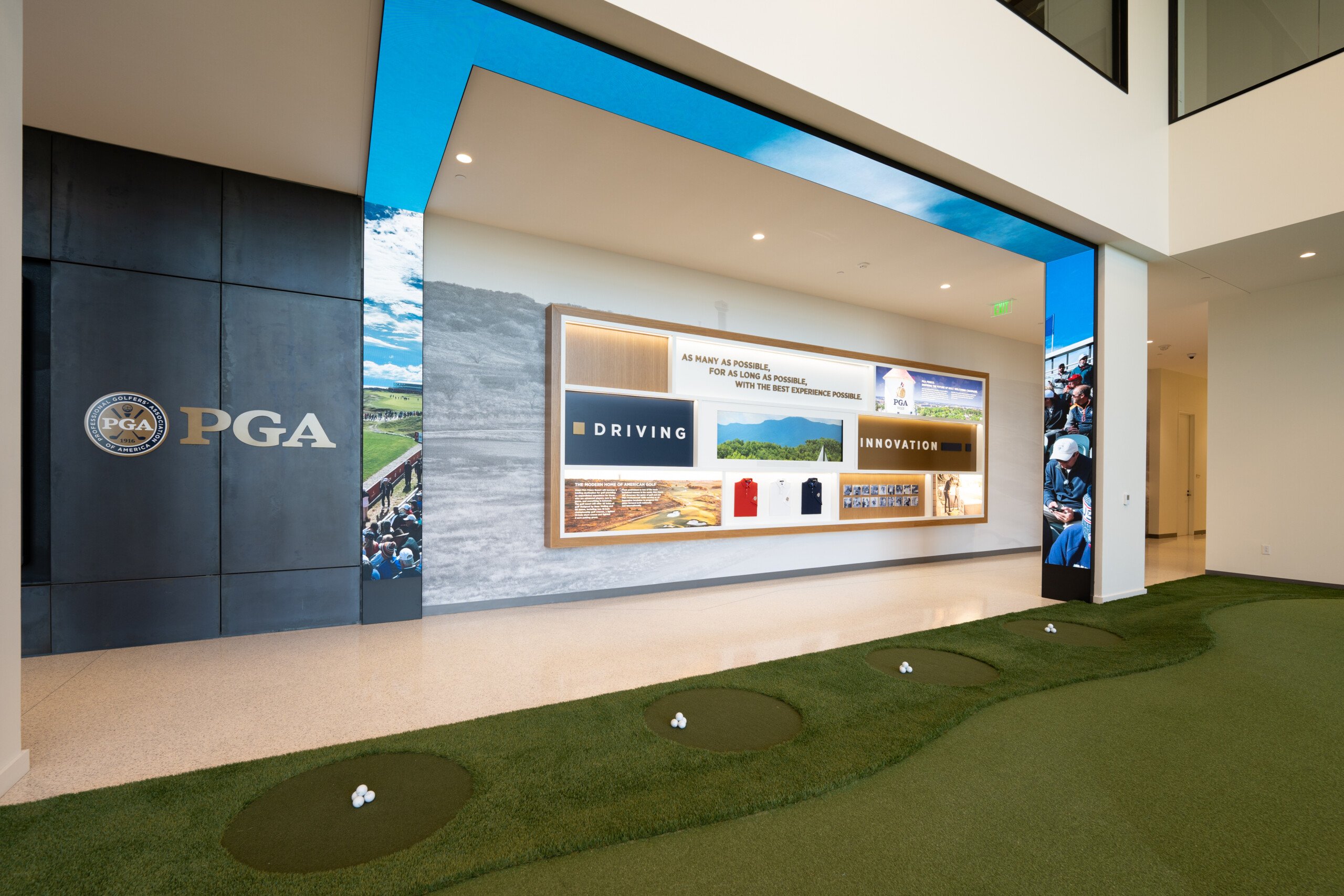 Chief Membership Officer John Easterbrook of the PGA of America, which boasts 28,000 club professionals across the globe, expects PGA Frisco to develop into one of the world's greatest golf destinations. "We will be talked about alongside Pebble Beach, Pinehurst, and Augusta," he said. "PGA Frisco is as good as anything you will see in the world."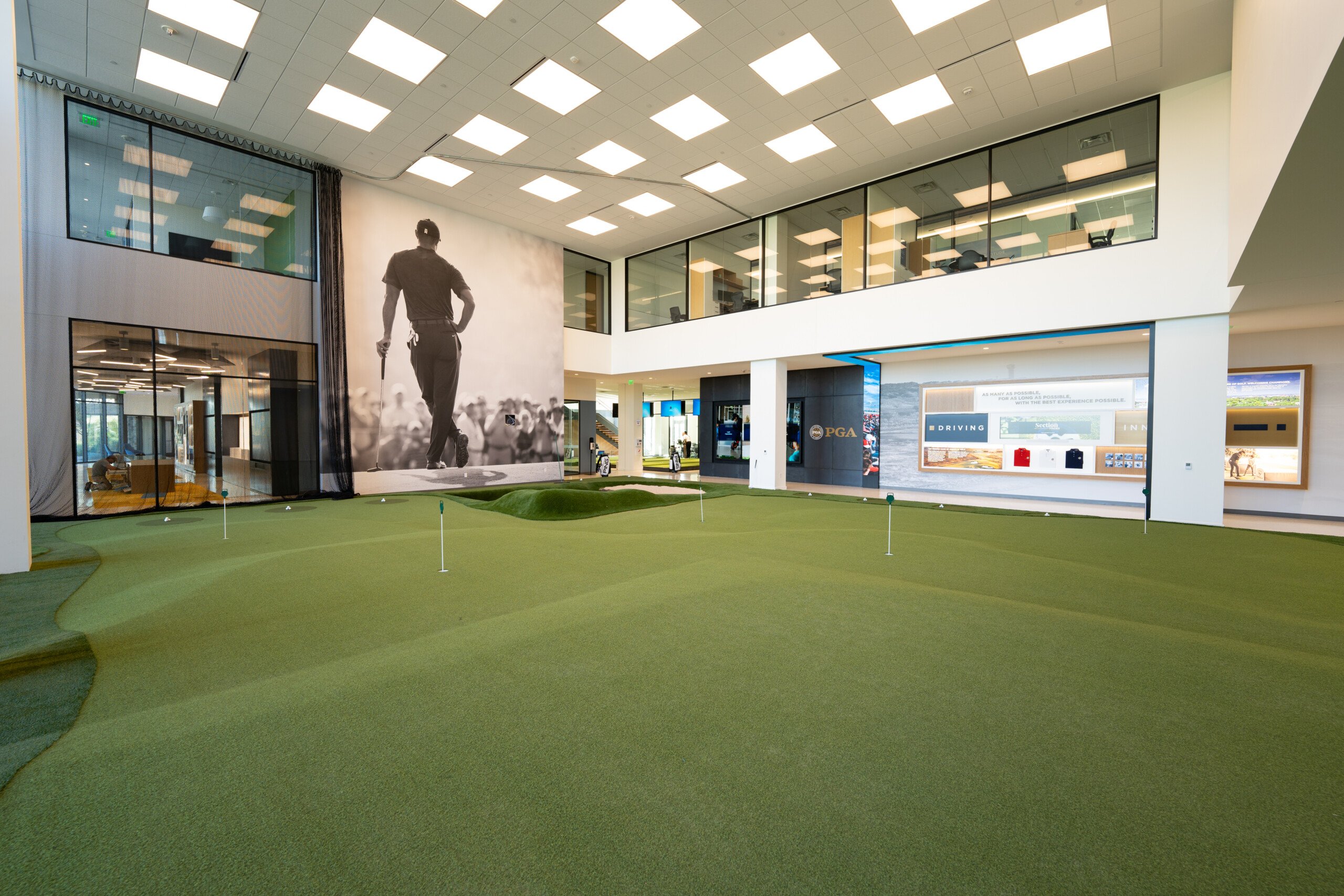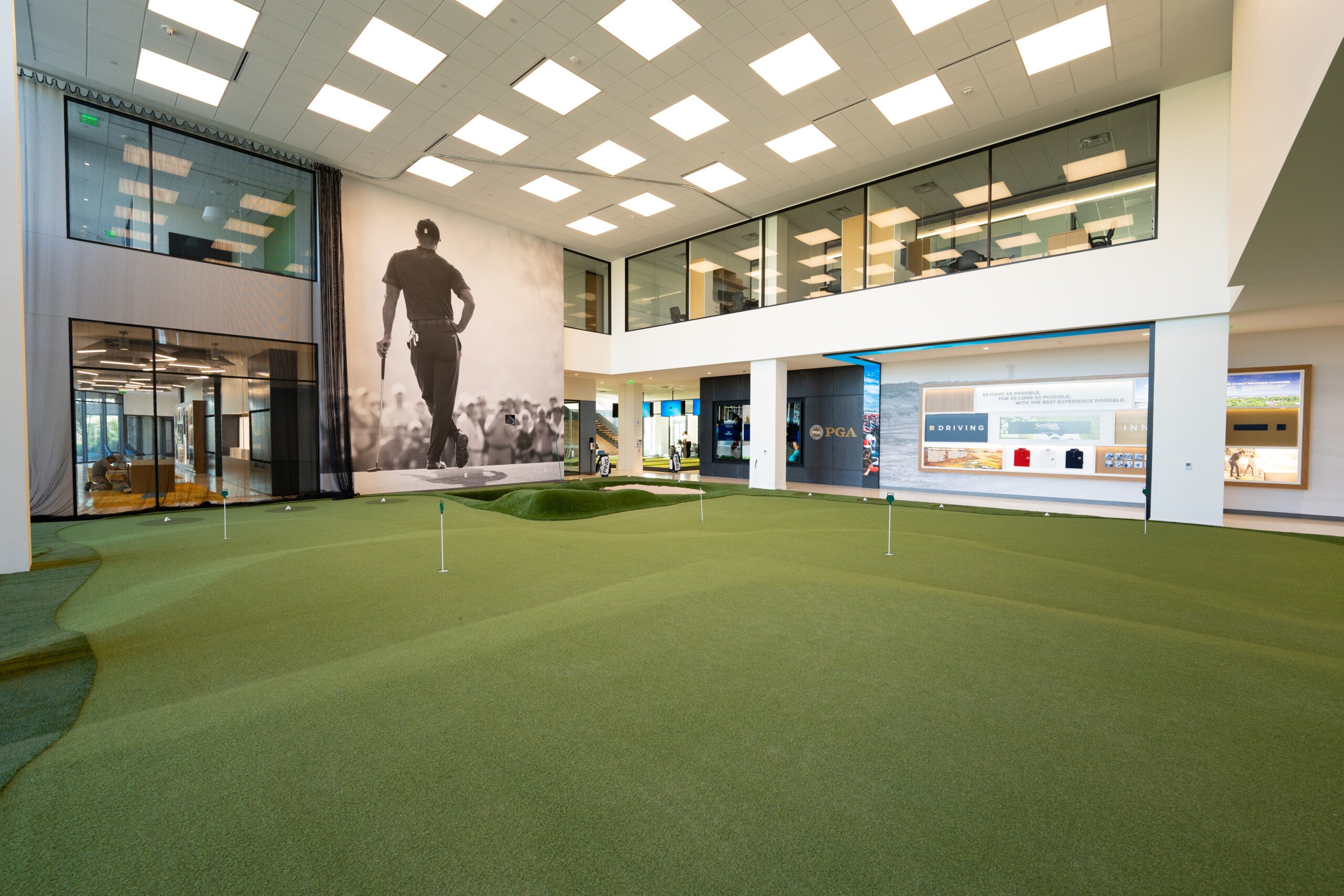 The destination's first golf tournament, coming to town May 24-28, 2023, is the most prestigious senior golf major championship on the circuit: the KitchenAid Senior PGA Championship. The projected economic impact of the tournament is upward of $20 million. Once men's PGA TOUR major championships start coming to town—the first is set to be the PGA Championship in 2027—Waugh forecasts the economic impact of each major to be between $100 million and $250 million. There are 26 championship tournaments scheduled over the next 13 years at PGA Frisco.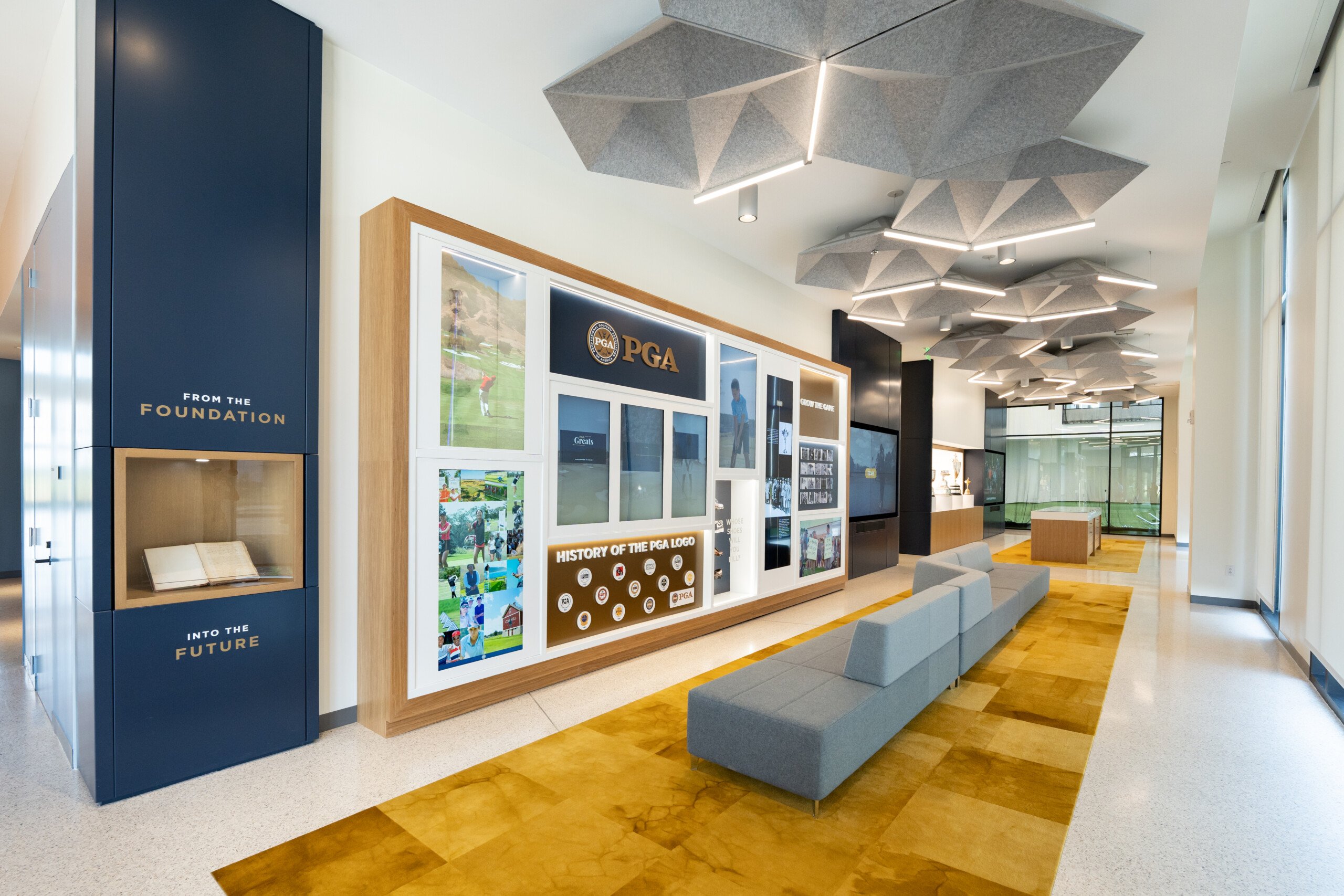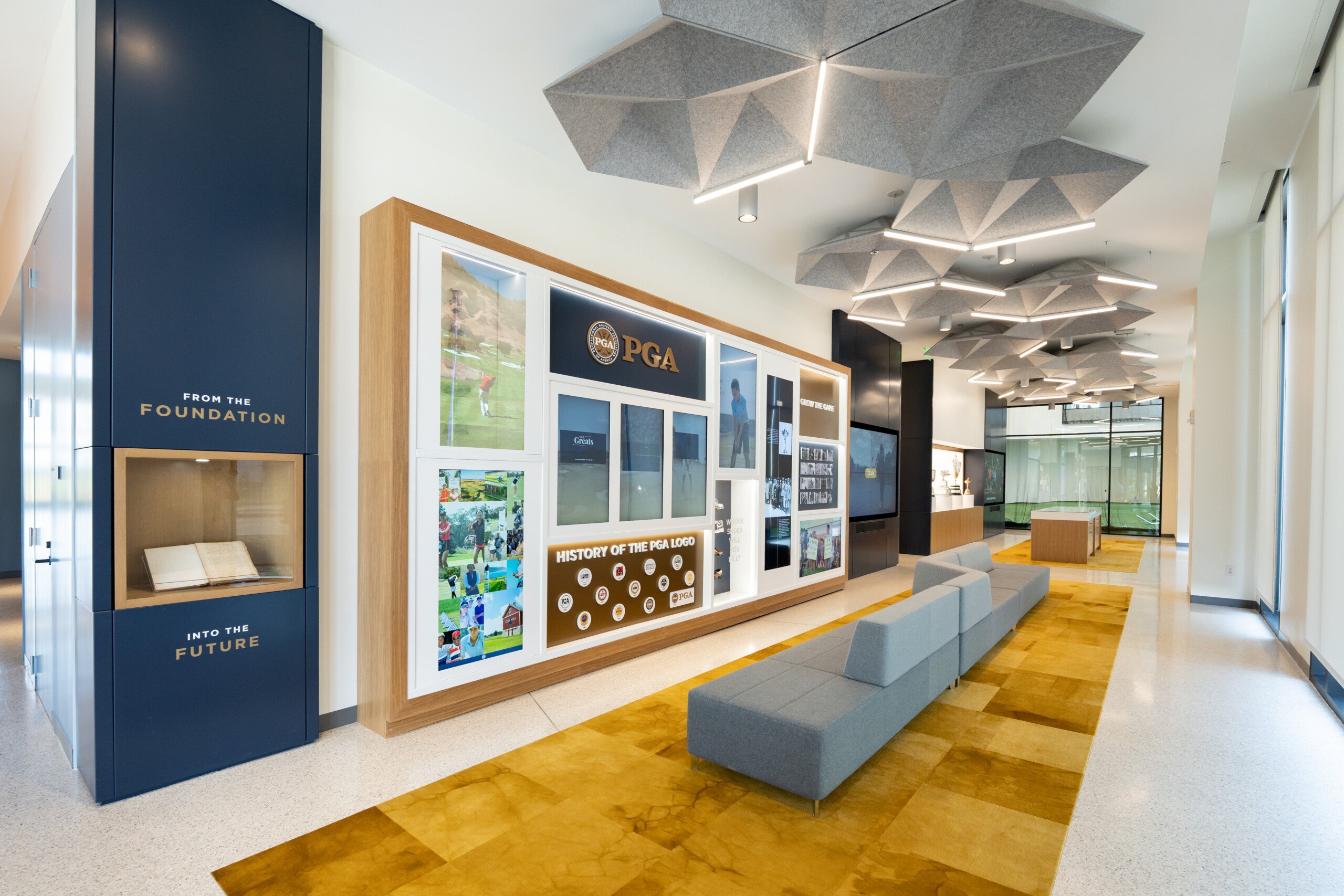 But the complex does not have to wait for major championships to make a substantial financial impact. The association, alongside public-private partners, including the city of Frisco, Omni Resorts & Hotels/TRT Holdings, the Economic Development Council, and Frisco ISD, have "already created billions of dollars of impact," Waugh said. "We had the guts to turn dormant land into 650 acres of premium land. And so, the town land around us is trading at a premium value compared to everything else."
The $550 million PGA Frisco campus is the largest development currently under construction in North America. Designed and constructed by Page, Adolfson and Peterson, and Cushman and Wakefield, it's described as "Texas modern," in line with Waugh's sentiments that "golf is no longer our grandparents' game anymore."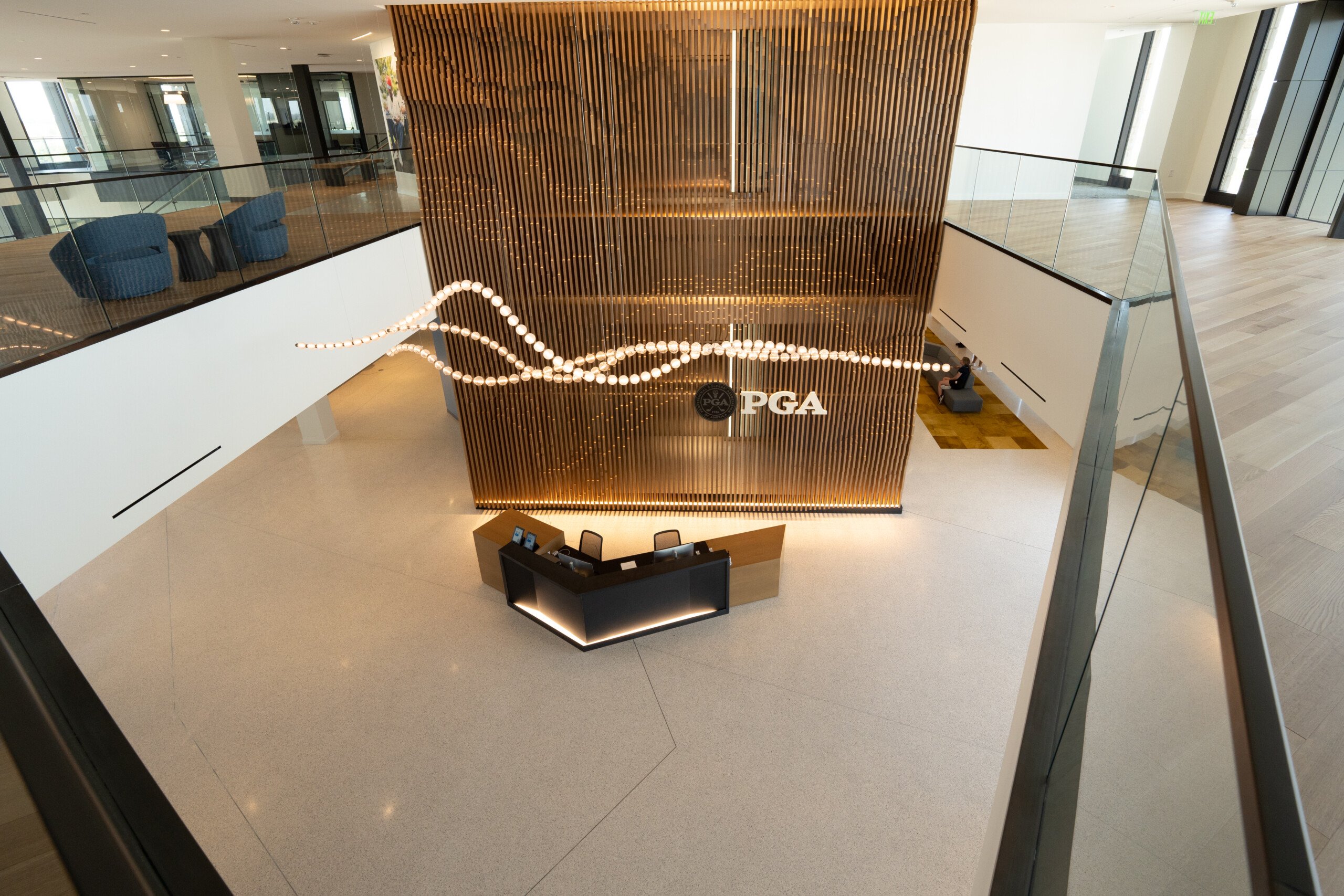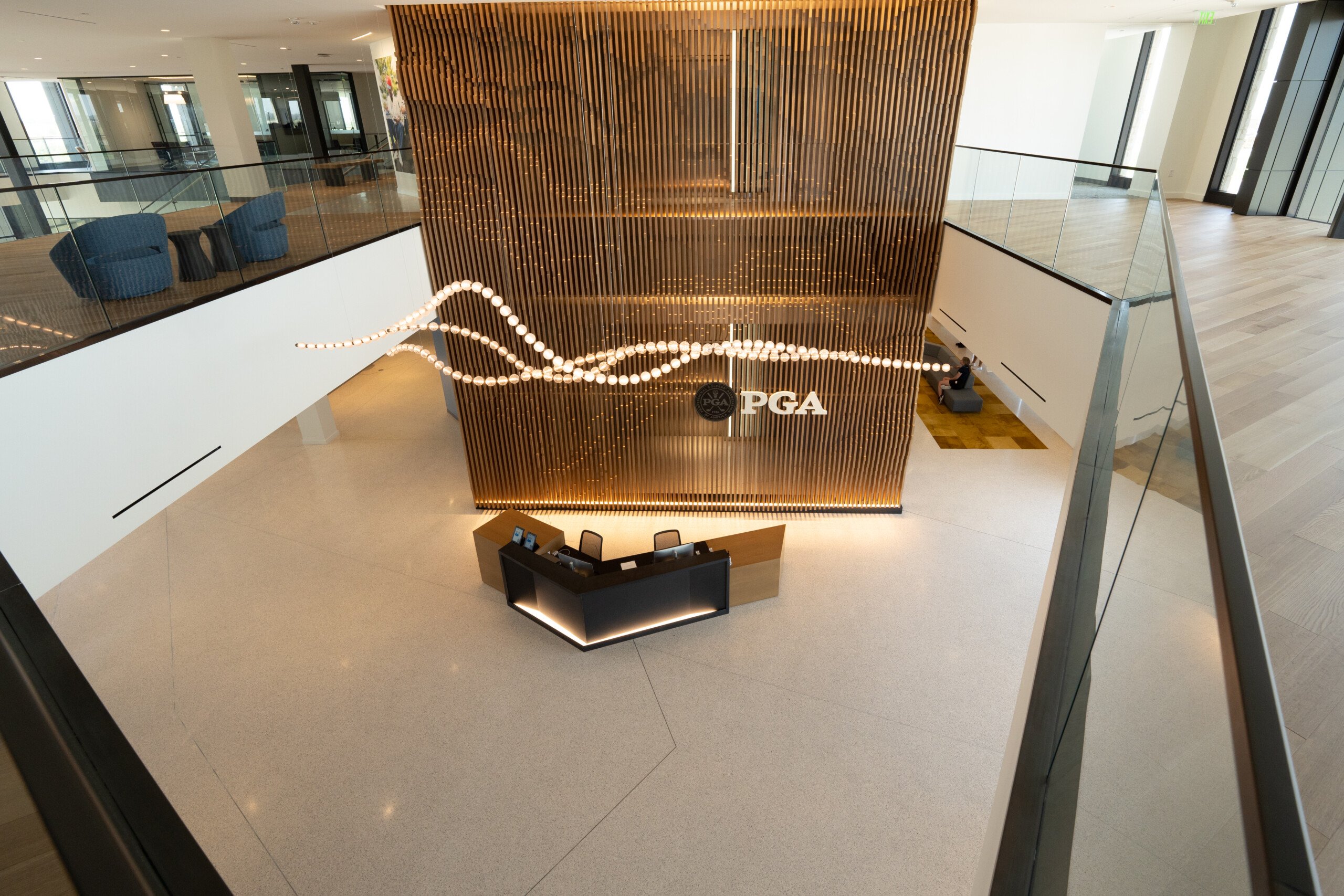 "The project's architectural response to its context and program was driven by regional environmental strategies, as well as from inspiration of the local natural landscape," said Ricardo Muñoz, associate principal at Page. "Deep overhangs, shading devices, and trellises are implemented much in the same manner as one would find in structures across Texas over the centuries. Terraces facing the golf courses are well-shaded and meant to take advantage of natural breezes. The bent bar form and the terracing of each floor recall the natural earth and rock formations found in the immediate context."
The four-story headquarters includes open and enclosed offices, a social stair, an executive boardroom, outdoor terraces, a video studio, seminar and meeting rooms, and a PGA Professional Development Center. The building also features indoor golf training facilities, including a chipping area, putting area, driving range simulators, and interior hitting bays with operable exterior walls for hitting onto the driving range.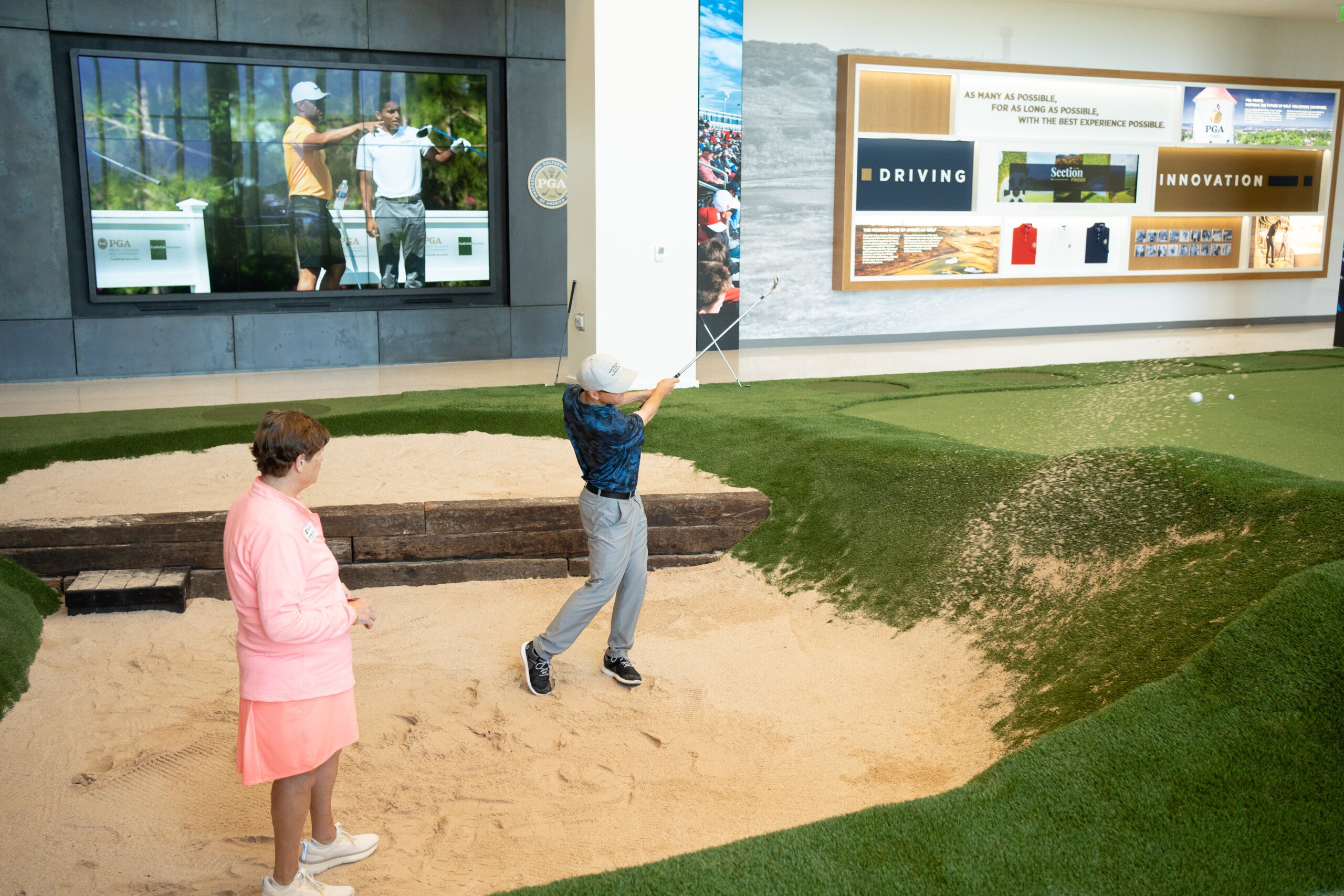 The headquarters are fashioned around two 18-hole championship golf courses, a 510-room Omni Resort, a 30-acre practice facility, a performance center, and a modern clubhouse.
Waugh, a Boston Red Sox fan, likens the facility to one of the most historic stadiums in sports. "I come to work here every day, and it's like walking into Fenway Park in Boston," he said. "I grew up in the Wall Street-style ant farm office. But this new office space is egalitarian. It's subtle, yet modern."
Convening at the PGA of America's "Welcome Home" event were Dallas sports icons and executives, including the likes of Jerry Jones, Tony Dorsett, Dan Hunt, Brad Alberts, Drew Pearson, Ed "Too Tall" Jones, World Golf Hall of Famer Kathy Whitworth, and more.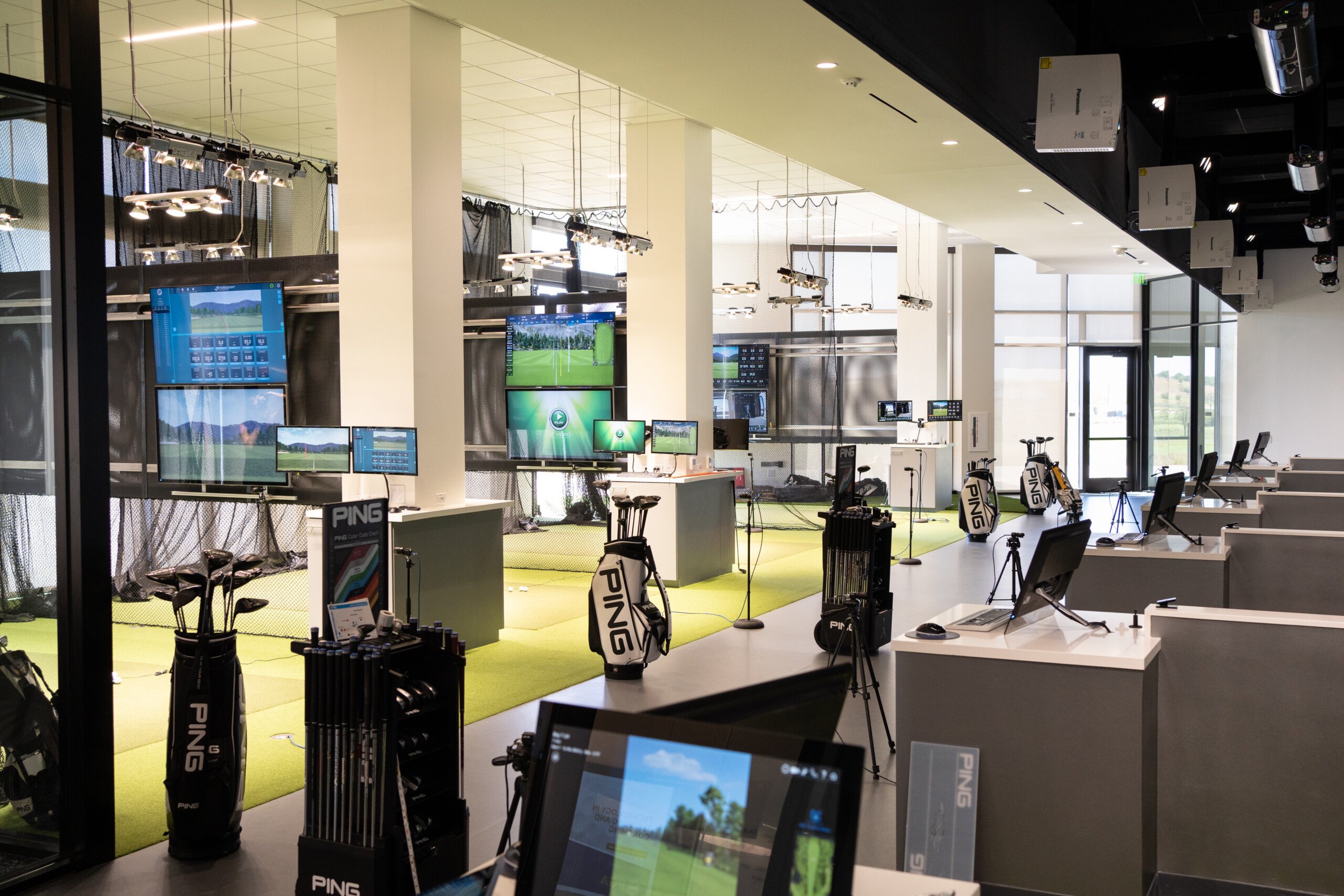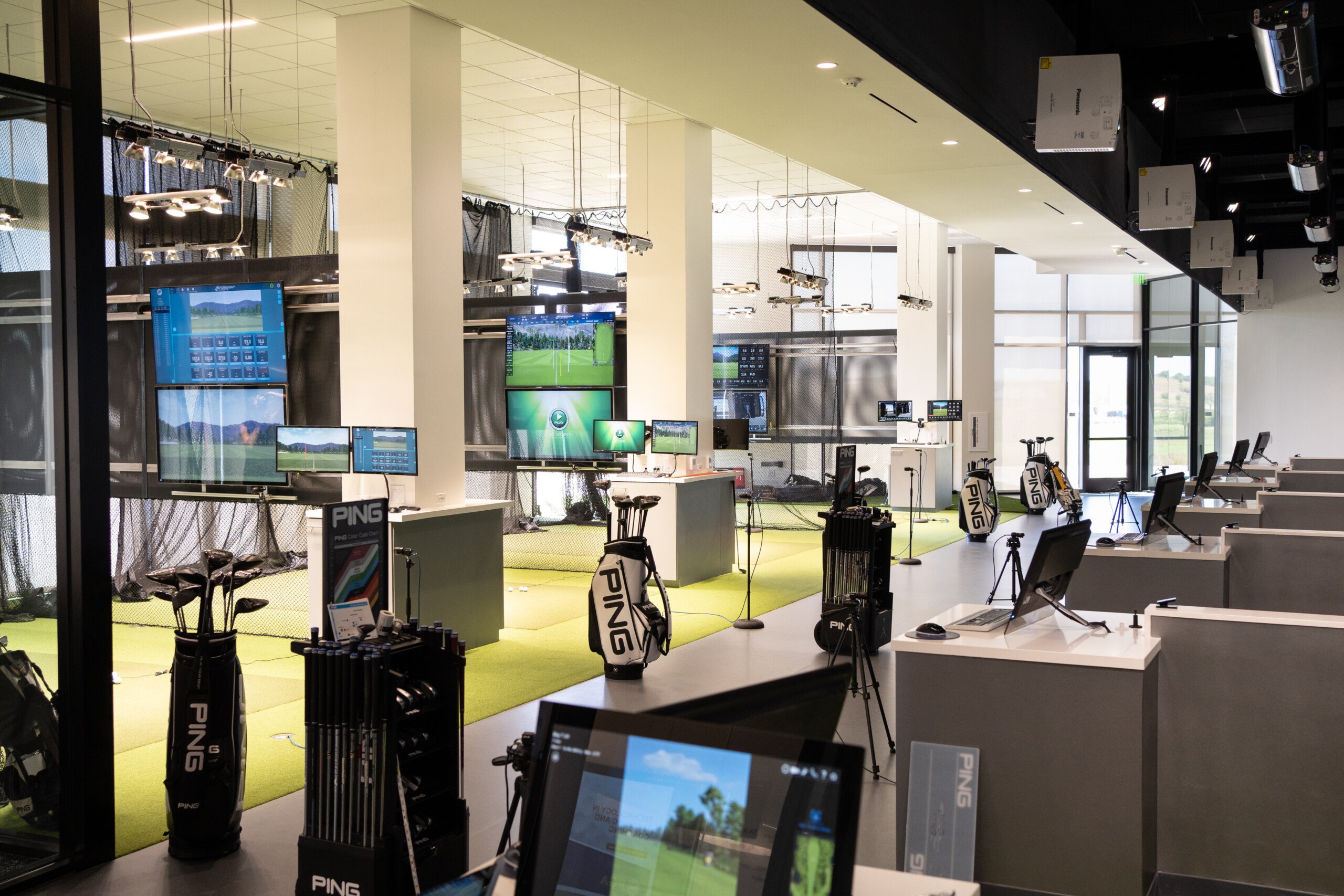 "The new headquarters is the Silicon Valley of golf; it's the Wall Street of golf," Waugh said. "It is everything commercial, and it is everything entertainment."