College Sports Facilities
Design
Digital Experiences
Pro Sports Facilities
Recruiting
National Sports Forum 2022 Super Panel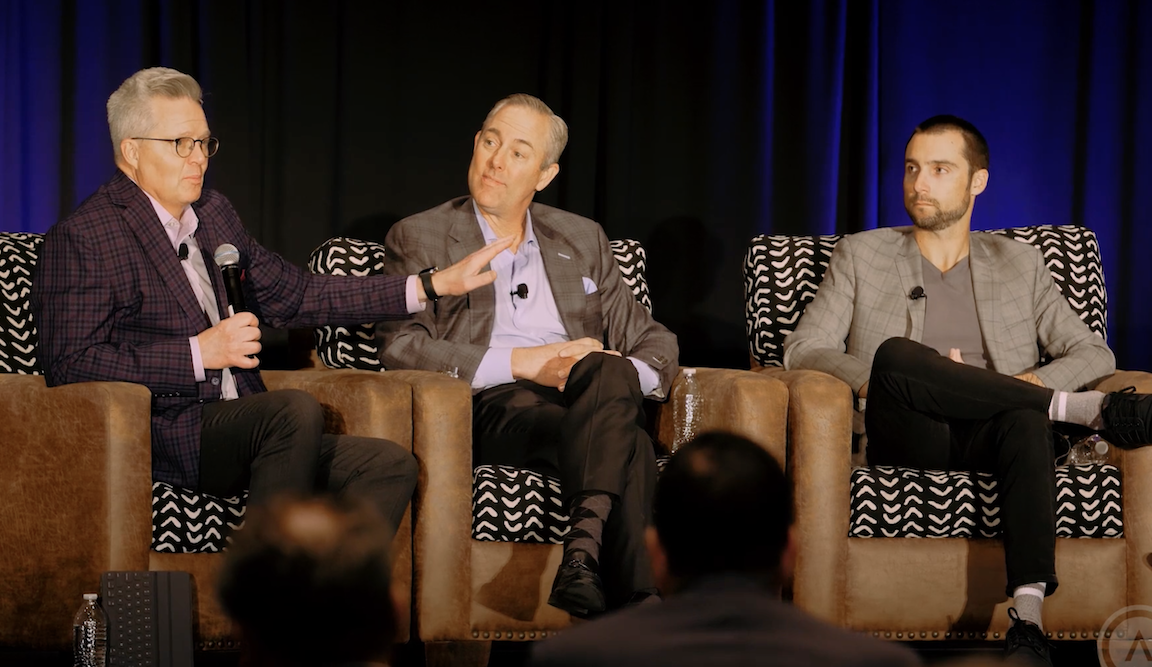 Afew weeks back I had the honor of hosting a "superpanel" at The National Sports Forum in Round Rock, Texas. We covered a plethora of topics including NIL, declining attendance, and the simple question: "What makes a great employee?
The panel consisted of:
Reid Ryan
Founder/CEO of Ryan Sanders Baseball
Credited with founding 2 minor league baseball clubs (Round Rock Express, Corpus Christi Hooks)
Formerly the President of the Houston Astros leading the club to two world series appearances and 1 world series championship in 2017.
Chris Plonsky
Executive Senior Associate AD at Texas/Chief of Staff
34 years in college athletics
president of NACDA, NACMA and Women Leaders in College Sports (formerly NACWAA), USA Basketball board member
Greg Kish
Senior VP/Head of Revenue at Sofi Stadium @ Hollywood Park
Previously served as General Manager of NFL Relocation Project playing a huge role in bringing the Rams back to Los Angeles
Former executive for 49ers with their partnership with Levi's Stadium, and sales consultant with Dallas Cowboys
Jeff Price
Chief Commercial Officer at PGA of America leading multiple teams including marketing and communications.
In 2018, Price was instrumental in steering the PGA's innovative, 11-year media rights partnerships with CBS, ESPN and ESPN+ while also overseeing its relationship with NBC Golf.
In addition, he has helped lead long-term partnerships with global brands such as AIG, Cadillac, KPMG, Michelob ULTRA, National Car Rental, Nike, Polo/Ralph Lauren
As you can imagine with a panel of this caliber, it was difficult to narrow down my questions. We had a solid hour of conversation and could have gone longer. (I encourage you to watch the video—see below). But I thought it would be helpful to summarize my takeaways:
1- NIL is going to change college athletics in a major way. Student-athletes will now have the ability to earn money outside of time spent on their sport. Essentially, it's like having a job, which every other college student already has the ability to do. Maybe, more importantly, it is a character lesson for young athletes. Bad choices can lead to consequences and what was once selection turns into de-selection if you are not careful of how you carry yourself. It prepares you for life.
2- Now more than ever, people's time is worth more than their dollar. Attendance is down, but consumption is at an all-time high. The motivation to attend games is no longer just about the team winning or losing, it is about the experience. What can the fan experience from their seat in the arena that they cannot get from their couch at home? It is all about convenience, especially for fans experiencing their first game, or first time at the venue. Let them have such a good time that they cannot wait to come back and experience it again—and bring their friends.
3- What makes a great employee? A great manager. Although you always want positive reinforcement and encouragement from your boss, it is important to have someone tell you, "That is a bad idea." It is how you learn! Everyone has their strengths, but few of us truly know what those are. A great manager unlocks those strengths, catapulting the employee to future success.
I invite you to watch our full session in the video below. I hope you learn as much as I did.