Pro Sports Facilities
Newly Renovated Chiefs Hall of Honor Greeting Fans for Home Opener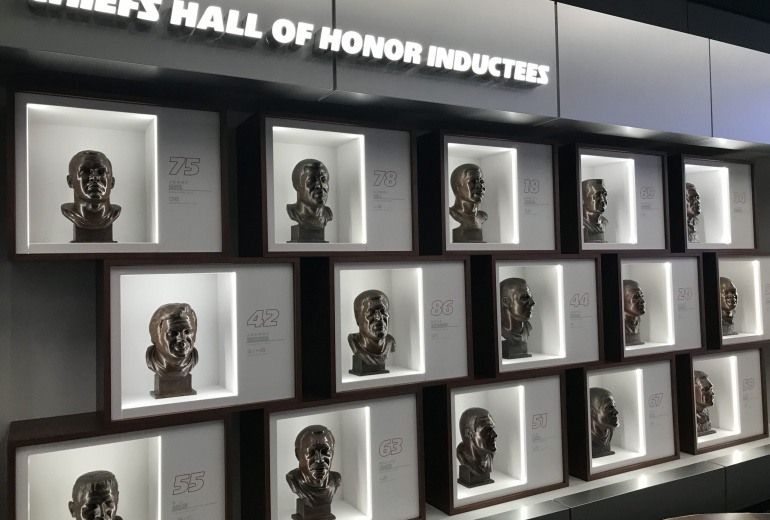 Published by Chiefs Digest
BY MATT DERRICK
SEPTEMBER 9, 2021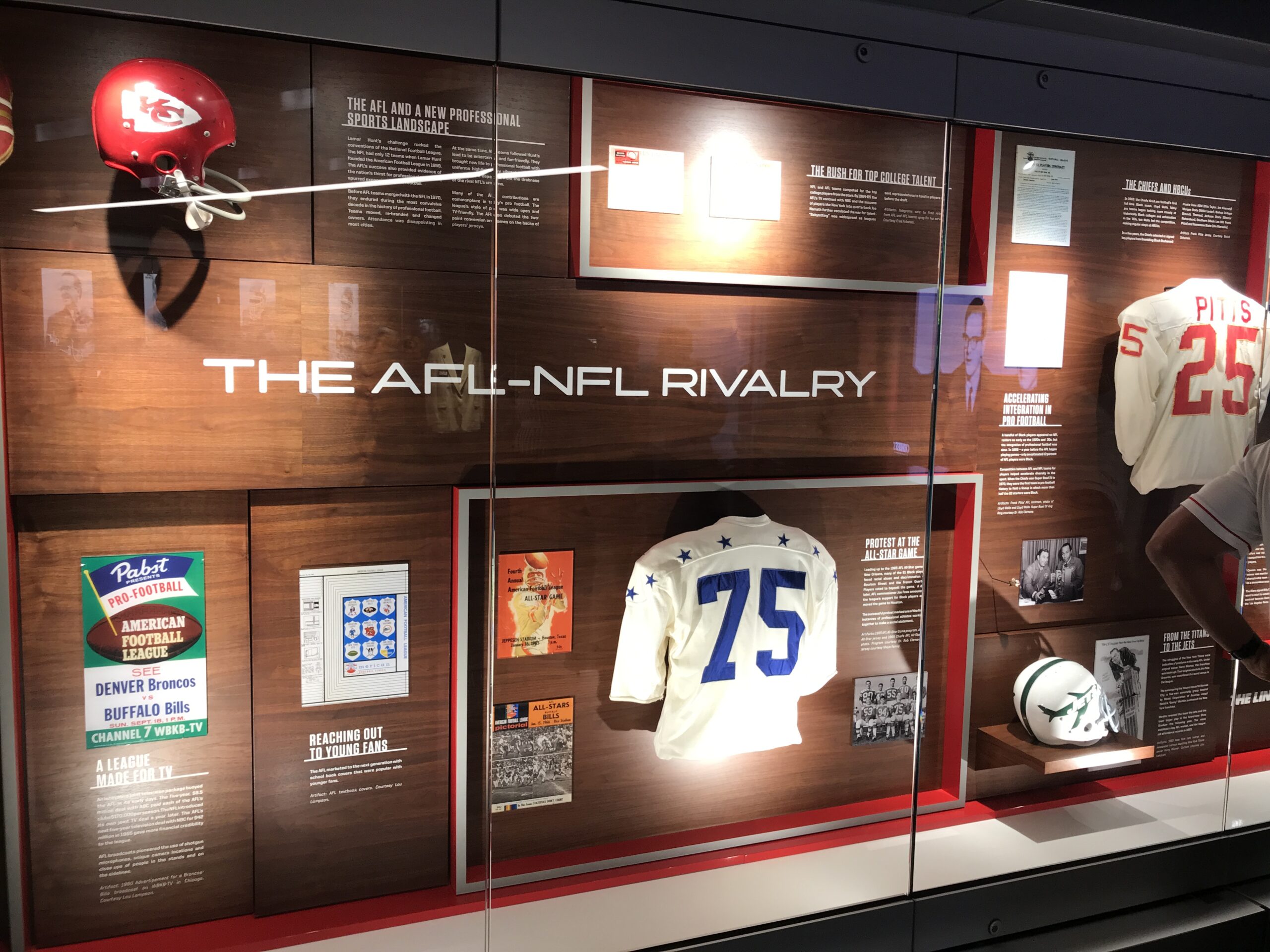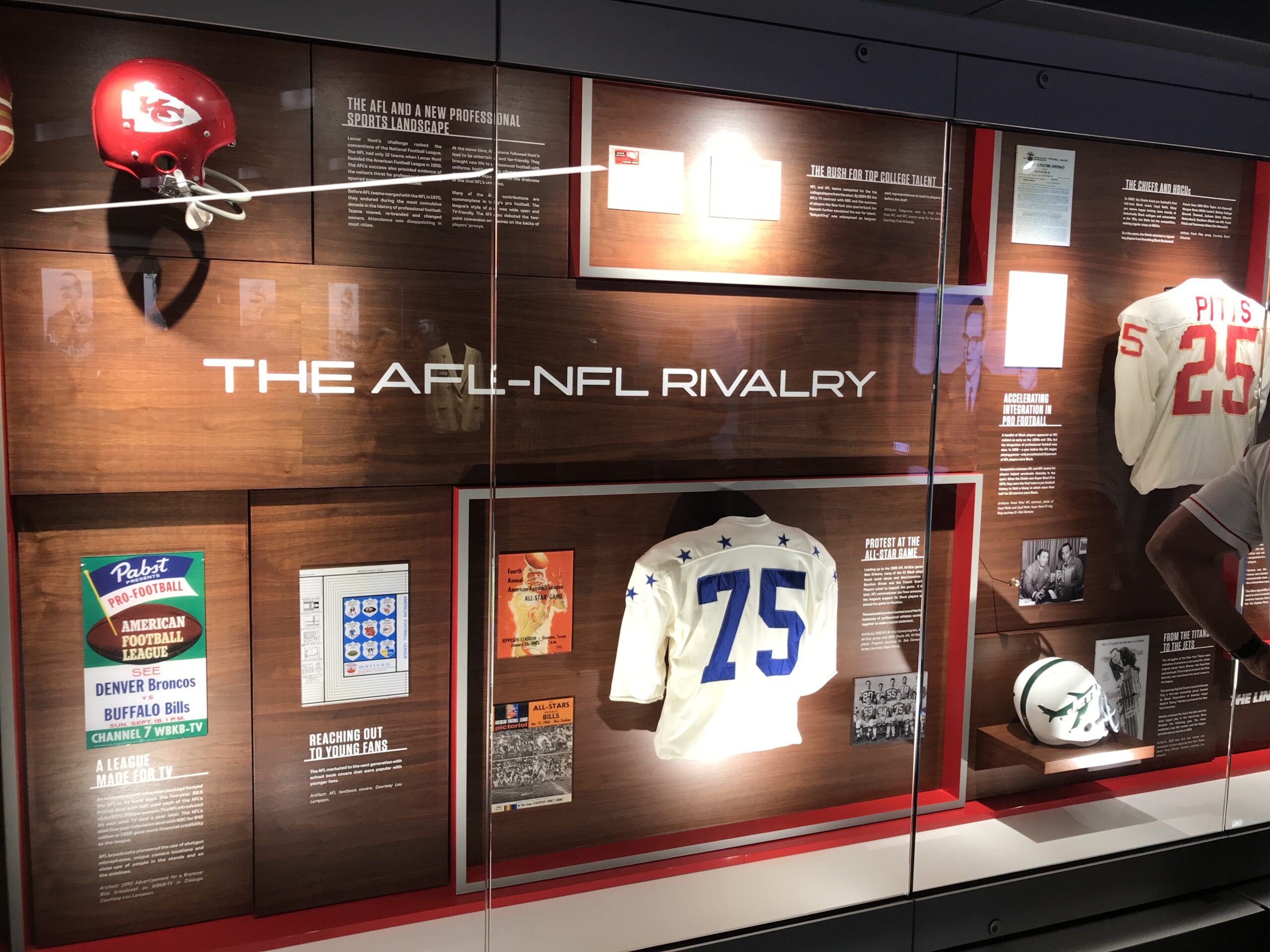 Dante Hall stands before a high-definition monitor, his right hand reaching for his forehead in disbelief as he watches the "X-Factor," the 2003 version of himself, eluding Denver Broncos and racing 93 yards for a touchdown. A moment earlier, Chiefs historian Bob Moore clicked the screen, flicked his finger and brought that moment back to life.
Welcome to the newly rebuilt Chiefs Hall of Honor inside Arrowhead Stadium, fresh off a nearly $9 million renovation and reopening to fans this weekend as the Chiefs kick off the 2021 season hosting the Cleveland Browns.
"I think it's absolutely amazing, it's beautiful," Hall said during a reopening ceremony Thursday evening. "They brought history into the modern era, and done it beautifully."
Hall was one of the Chiefs alumni spanning six decades of the club's history attending Thursday's ribbon-cutting ceremony for the rebuilt Hall of Honor. Chiefs chairman and CEO Clark Hunt believes the renovated hall makes GEHA Field at Arrowhead Stadium "a bucket list destination for football fans."
"The best outdoor stadium in the NFL in an iconic birthplace of the modern era of the National Football League," Hunt said. "The new Hall of Honor only adds to Arrowhead's legendary status, and I look forward to our great fans enjoying this incredible space for many years to come."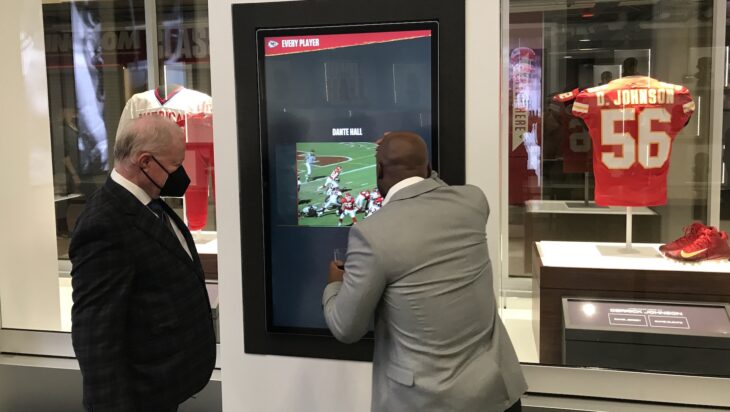 The Chiefs opened the Hall of Honor at Arrowhead Stadium in 2010. The original hall was built within the main concourse, allowing fans to walk through the hall on game day. The display cases included artifacts from throughout the club's history along with a commemoration of the American Football League, a salute to the team's Pro Football of Fame enshrinees, and a spotlight on Lamar Hunt and his contributions to sports as well as recognition of every player in club history.
"It's a place where we get to honor the great players, coaches and administrators who have helped shaped this organization into what it is today," Hunt said.
All of those elements remain, with greater grandeur and a dose of interactive wizardry. The Hall of Honor is now completely enclosed in the same location along the main concourse, making the hall a more idyllic destination 365 days a year. The team also plans to open the facility for public and private events, further fulfilling the club's goal of making Arrowhead Stadium a community asset.
"This hall is magnificent," said Mitch Holthus, the voice of the Chiefs, during the reopening ceremony. "It is a hall for our fans but it's also a hall for every one of you players, but it's also a hall to remember the beginnings of what has become in many ways a one-of-a-kind franchise."
In addition to the display cases that contain mementos from Len Dawson to Patrick Mahomes and Bobby Bell to Derrick Johnson, the new hall is divided into sections that tell different stories of the team's history. One wing highlights the club's Ring of Honor inductees, while another features the club's members of the Pro Football Hall of Fame. Around the corner is another area detailing the history of the AFL and the merger with the NFL.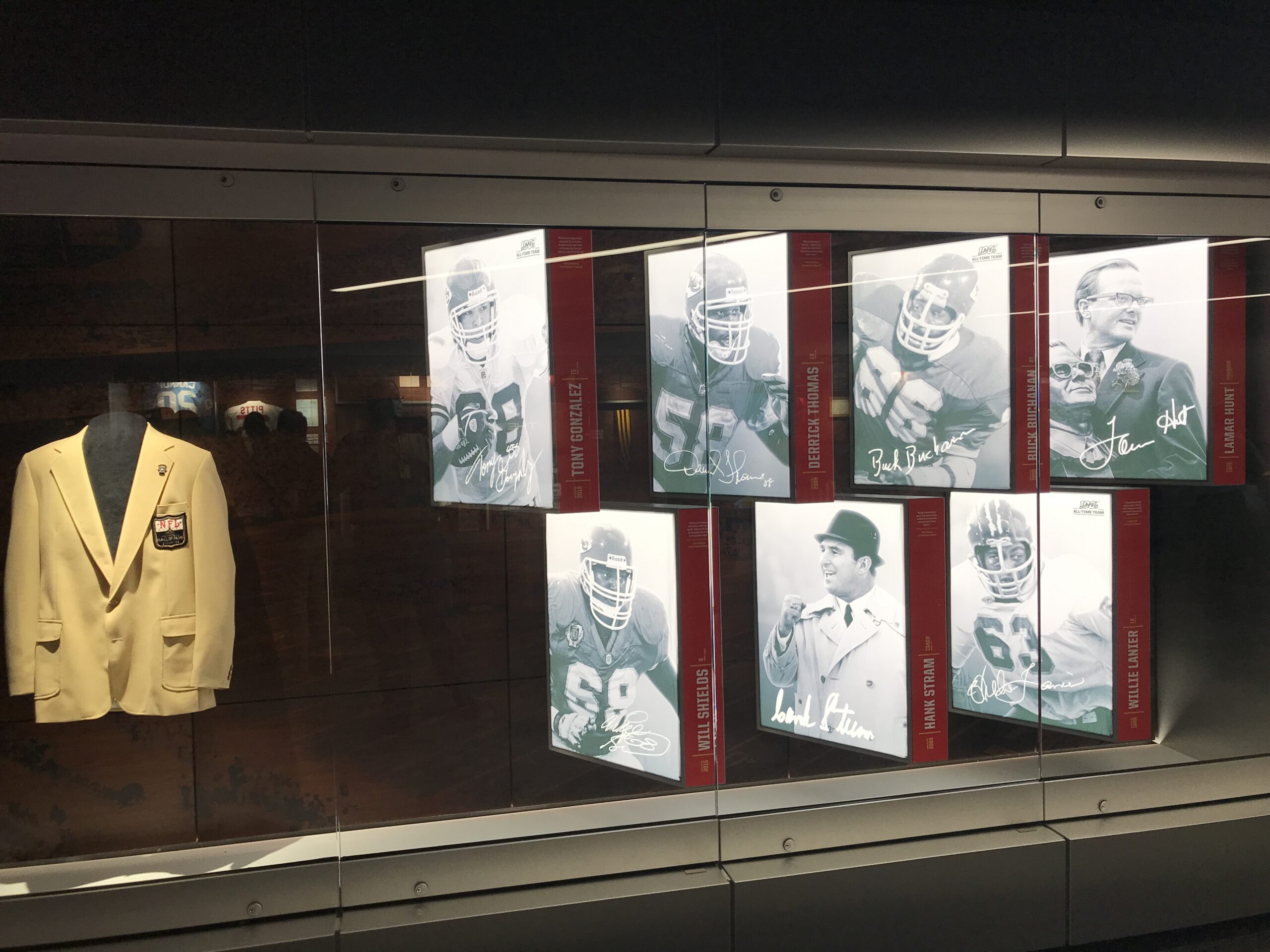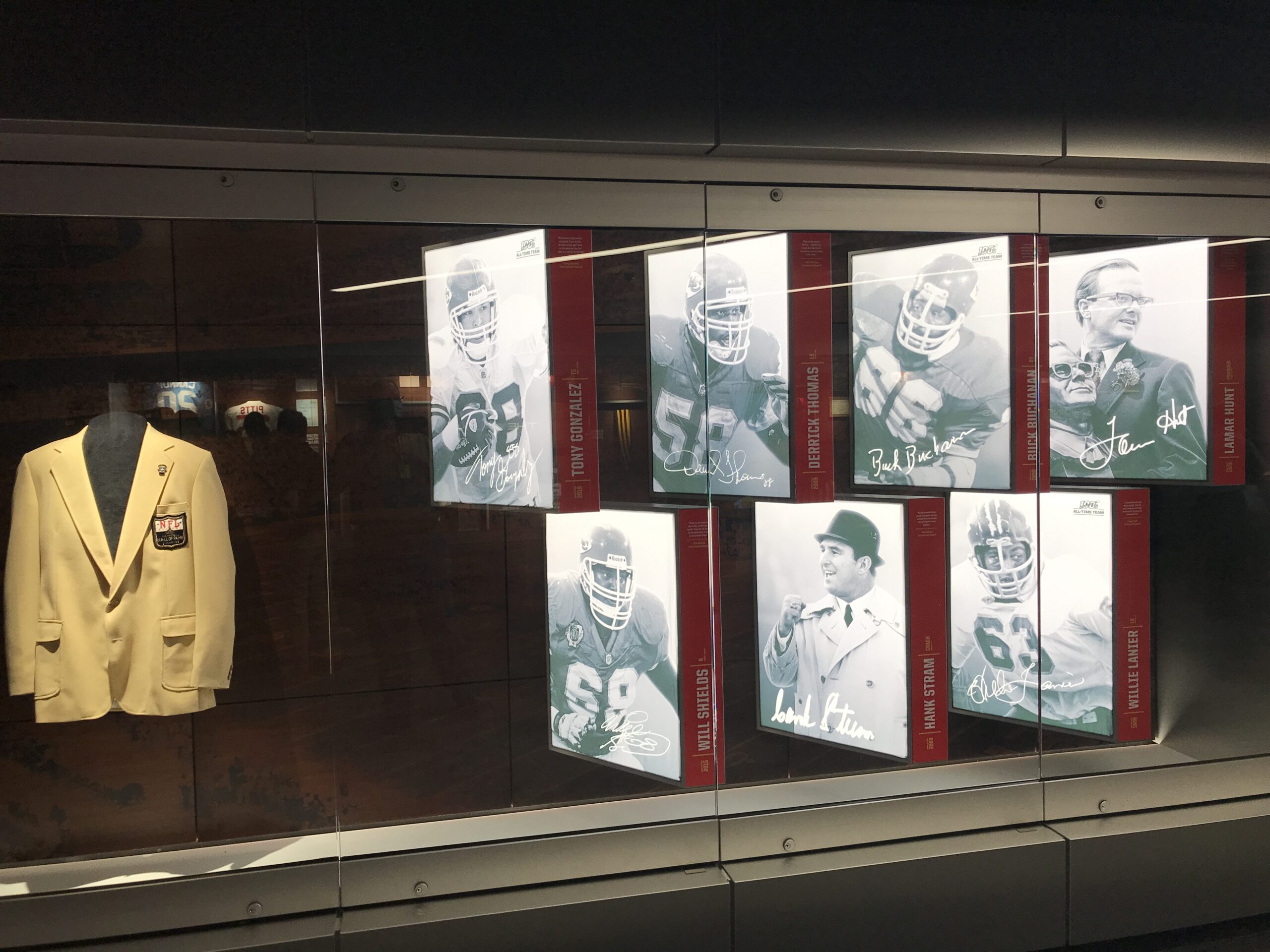 It's those early Chiefs' memories that resonate the most for Hunt, who as a child idolized Dawson, Bobby Bell, Willie Lanier and Jan Stenerud.
"I got to see some of those guys in person today but if you walk through the Hall of Honor, you get to see them as well," Hunt said. "That's really what brings back those butterflies that I get in my stomach that makes me think about being here with my dad at Arrowhead."
On the monitors where Hall watched the replay of his epic punt return touchdown against the Broncos, fans can scroll through every player in club history and bring up photos, uniform numbers, statistics and highlights.
"For this great organization, for them to include you in any way, honestly it's so humbling, it's so rewarding for all the hard work you put in, the blood, sweat and tears," Hall said. "Maybe one day, when I'm an old man, I can bring my kids here and be like, 'Look your dad did enough that the Chiefs felt like I should be in this beautiful, beautiful Hall of Honor.'"
Hunt cut the ribbon to the remodeled Hall of Honor alongside Pro Football Hall of Fame inductees Bell, Stenerud, Lanier and Will Shields along with Georgia Buchanan, widow of Hall of Fame inductee Buck Buchanan. A few moments later Hunt stood in front of his favorite place in the new hall, a trophy case that now features a Lombardi Trophy from both Super Bowl IV and Super Bowl LIV. "Of course we now have a couple of Lamar Hunt Trophies in this space as well, so that helps make it extra special," Hunt said.
He also noted in his remarks there's plenty of room for expansion.
"I'm very proud of our team," Hunt said, "and I don't want to jinx anything, but as Mitch pointed out, I think we have a pretty good chance of winning a few more games this season and, hopefully, adding some more trophies to this beautiful trophy case."