Uncategorized
Players' Lounges Can Be a Powerful Statement to Recruits and Families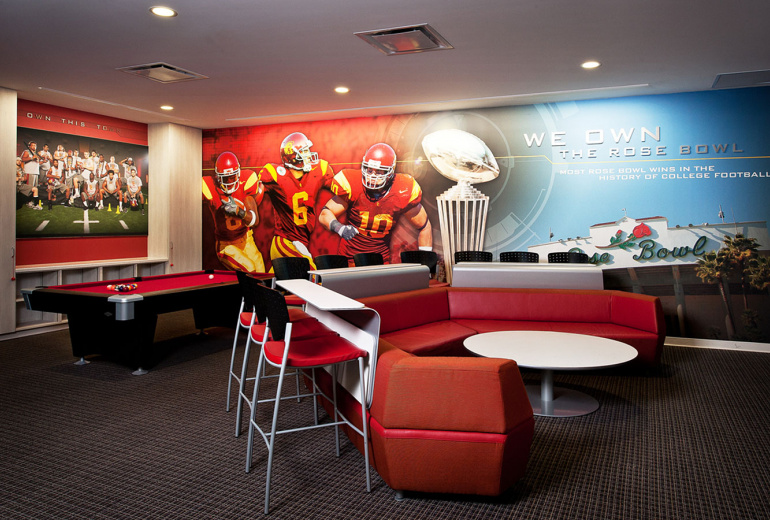 As Advent works with athletic departments around the country, an increasing number of schools and teams are asking for ways to enhance the student-athlete experience beyond just state-of-the-art stadiums and weight rooms. It has become a powerful statement. Athletic departments have built and augmented facilities for the experience as athletes and as students, and now they're starting to focus on providing athletes places where they can study, socialize and relax given their busy schedules. Sports Business Journal this week featured a column by Advent CEO John Roberson and president Todd Austin discussing the importance of players' lounges in recruiting.
"When collegiate athletic departments plan their building projects, they clearly describe each space and how it fits into the overall function of the facility. Practice fields, locker rooms, weight rooms and coaches' offices all serve a well-defined function. But the players' lounge serves a more intangible, but equally important, purpose. Student athletes are receiving a first-class educational experience, and they are competing at the highest level of athletic achievement. Shouldn't athletic departments provide a top-notch venue for their overall happiness and well-being?"
Advent has worked on players' lounges for a number of athletic programs across the country, and they've found that in addition to improving the welfare of student-athletes, they have become powerful messages to families. These spaces are clear signals to parents that athletic programs and universities care about their children beyond what they offer on the field or on the court or even in the classroom. Certainly, some of these spaces are more lavish and more adorned with technology than others. Through work with universities across the country, Advent has learned that the bells and whistles — or "PlayStations and ping pong tables," in some cases — aren't always necessary to provide a first-class player lounge. It's the intention of creating a sanctuary space that counts. Advent designed players' lounges for Florida State football, USC men and USC women athletes and Creighton basketball.