Academic Facilities
Advent Culture
College Sports Facilities
Design
Digital Experiences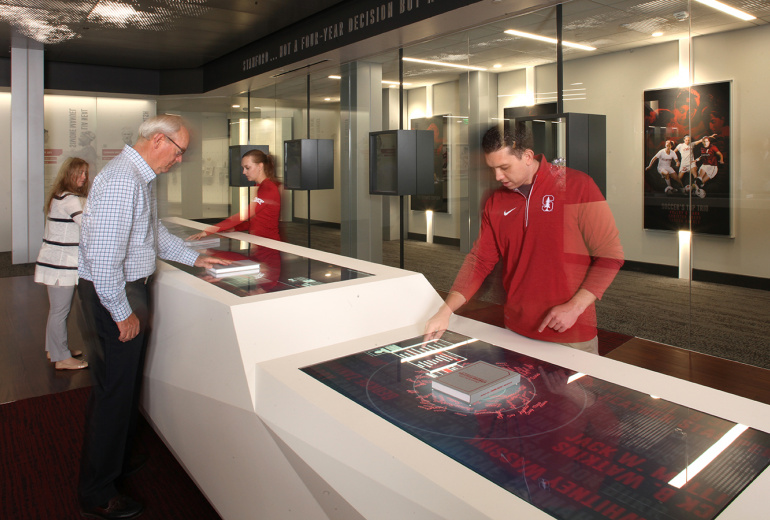 Lots of people seem to ask me "John, why does storytelling play such a big part in building a brand?"
Here's why …
To us, the art of identifying and maximizing a brand's story is what enables us to stand out.
Brands are simply the perceptions or stories in the mind of the audience that add or subtract value and enable choice.
When you take a look at the best brands, they all seem to have a unique set of stories that provide an emotional connection to their audience.
The best ones guide or direct the stories that they want to tell.
Those who don't, let their customers define the story and unfortunately seem to lose their identity in the process.
At Advent, we take a deep dive into the DNA of an organization.
We call it "StoryMining", more to come on that in a future post.
But in essence, we equip ourselves with important messages that we can use within the designs that we create to bring them to life.
From the magic table we incorporated into the design at Stanford University's Home of Champions emphasizing the stories of hundreds of student athletes throughout Cardinal history…
All the way to creating the "elevated moments" when working with the University of North Carolina on the iconic "shoe wall."
It's the elevated moments that we remember.
It's these moments that turn into stories that people want to share that bring brands to life.
It's why they are the pinnacle of what we do with each and every one of our projects and what continues to drive us forward.
Stories are what connect us, they are what bring us together and for us the core focus for anything we are a part of.
We look to move people, and to do that, the connection is everything.