College Sports Facilities
Design
Graphics Add Energy to South Carolina's Football Practice Facility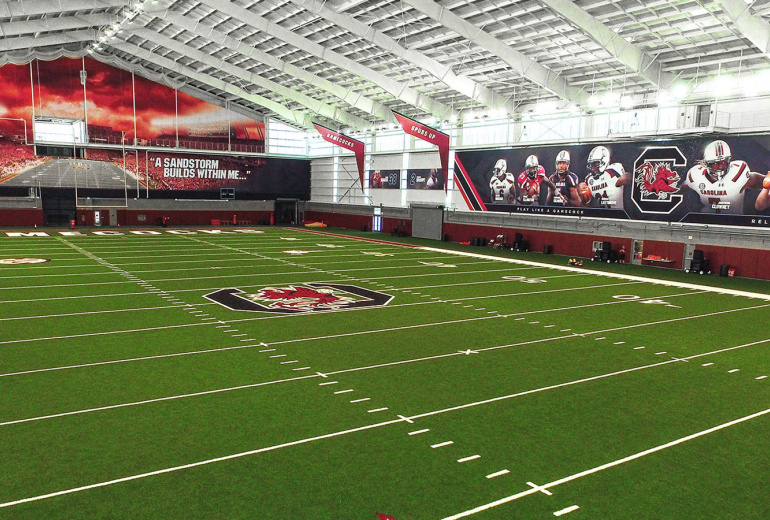 In November 2015, South Carolina opened the Ken Wheat Practice Field, a $14.3 million facility that has become one of the best indoor practice facilities in the country. With Advent's help, South Carolina installed impactful graphics that ensure it is on par with any practice facility in the country. Advent's Jared Coomes led design on the project. Here, he discusses the opportunities for powerful branding within the facility and the challenges of working in such a large, open space and staying within budget.
"We discussed full coverage on the walls, but that was not really feasible with the amount of square footage. In the space as a whole, they wanted to showcase great players everywhere and a tribute to their coaches. We also used some wall graphics to honor players who had won accolades and awards." "After evaluating the space as a whole, we chose different spots to create some large impact graphics and some smaller ones throughout."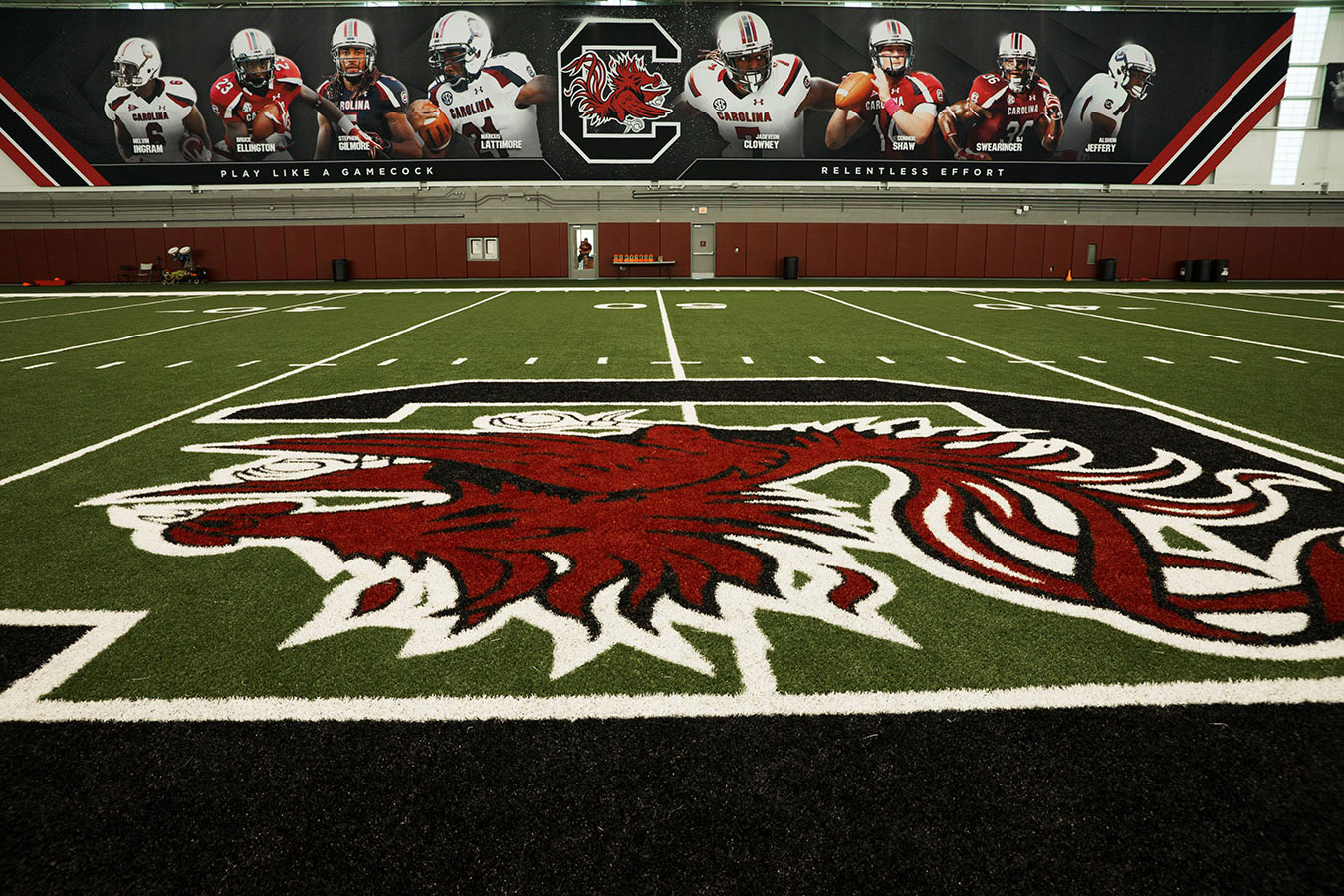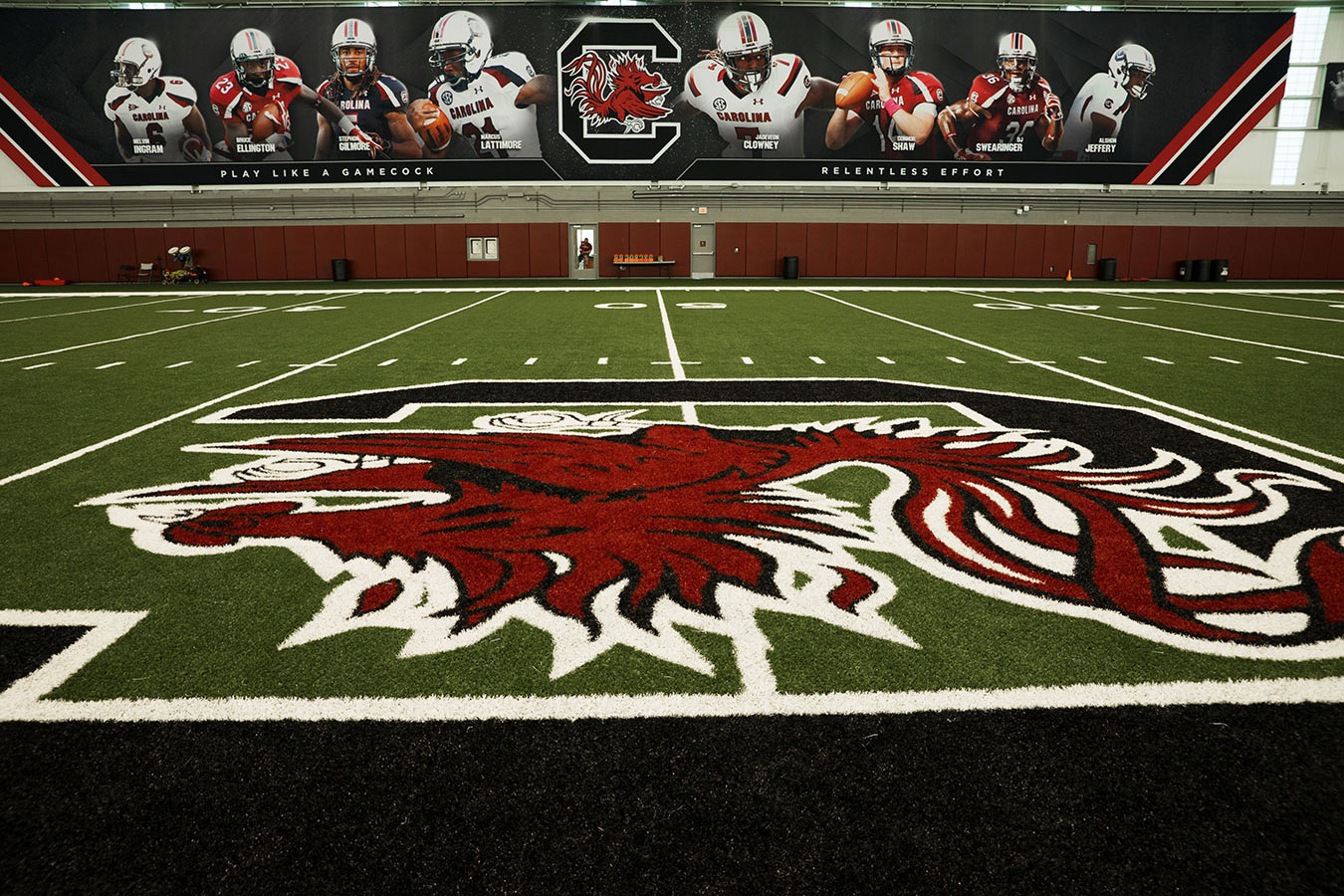 "We wanted to incorporate abstract elements of the Gamecock mascot in certain spots. For the background of all the displays we came up with a scratched texture to represent the Gamecocks' claw."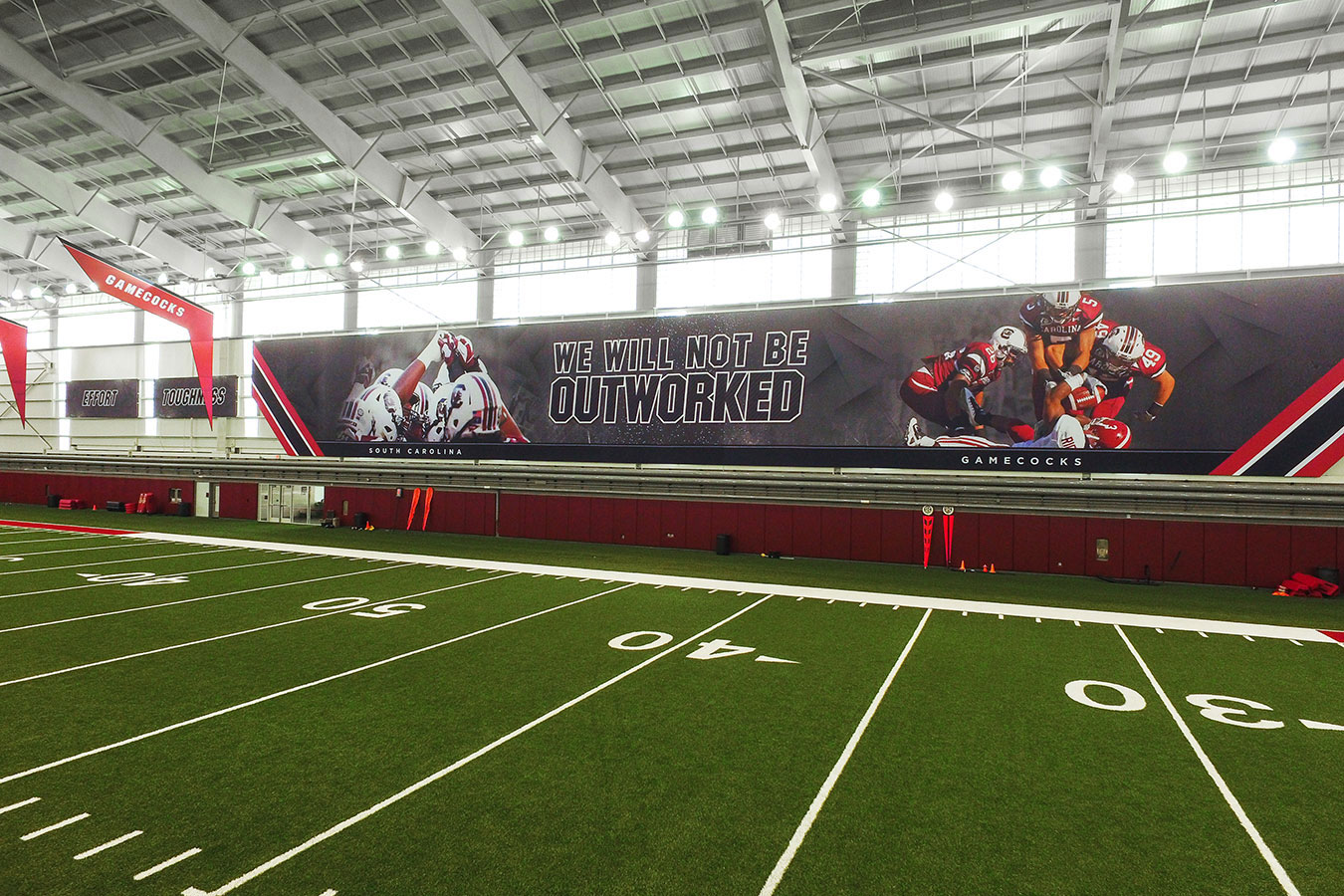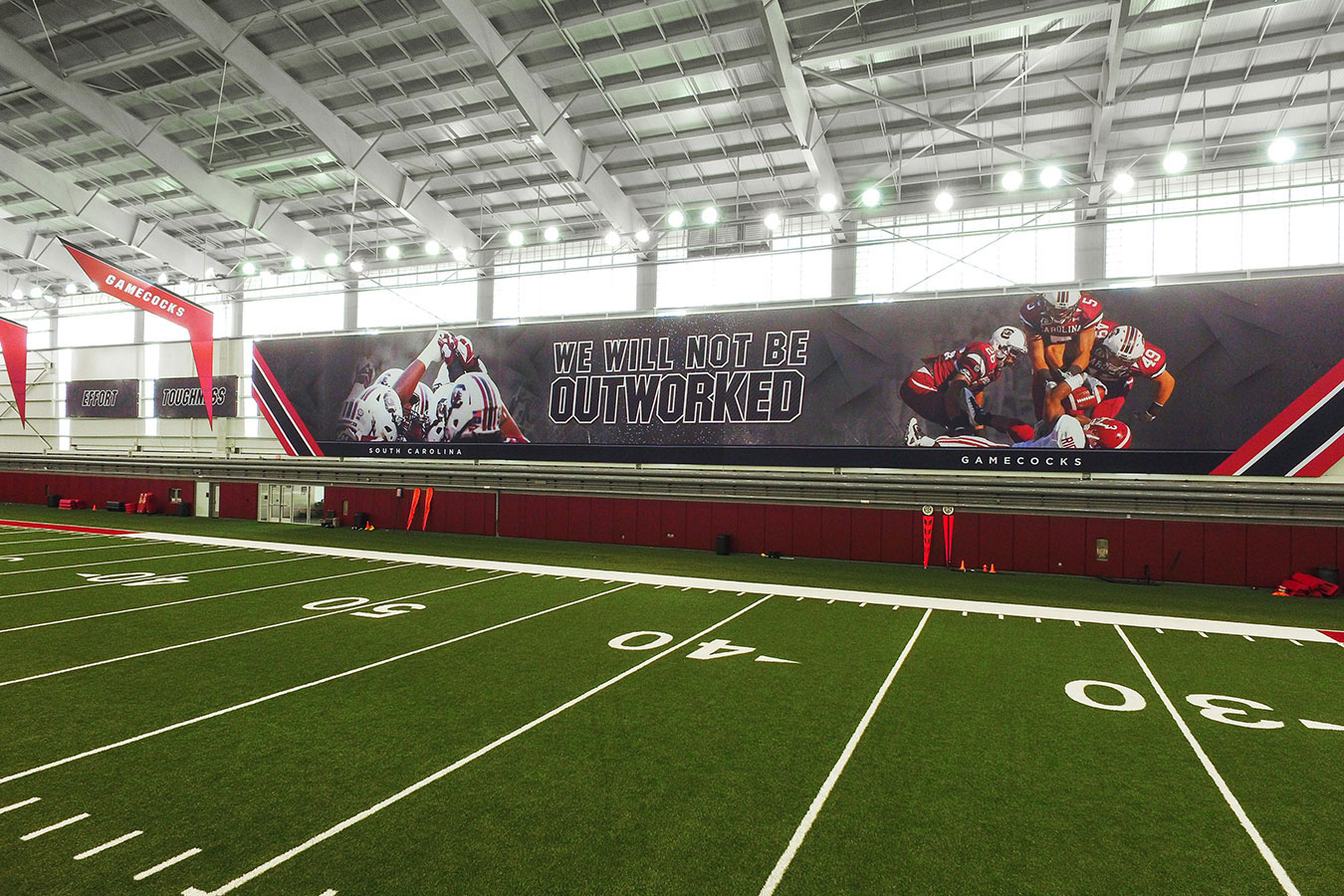 "At practice facilities, designs end up just being on the wall. We asked ourselves, 'How do we bring things up off the wall?' We brought these blades out to create a unique look in there. It ties back into that Gamecock mascot, the claw and the spur."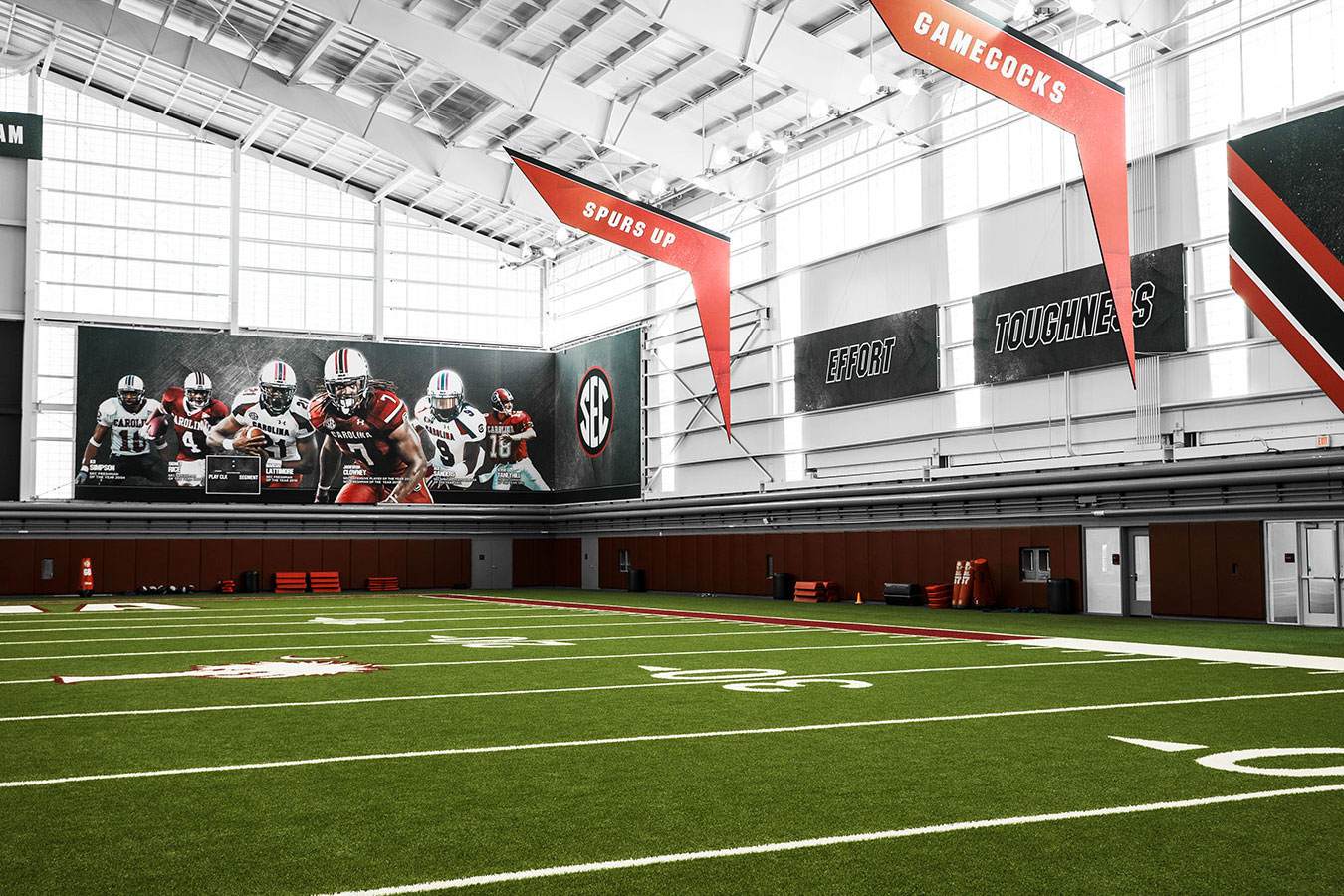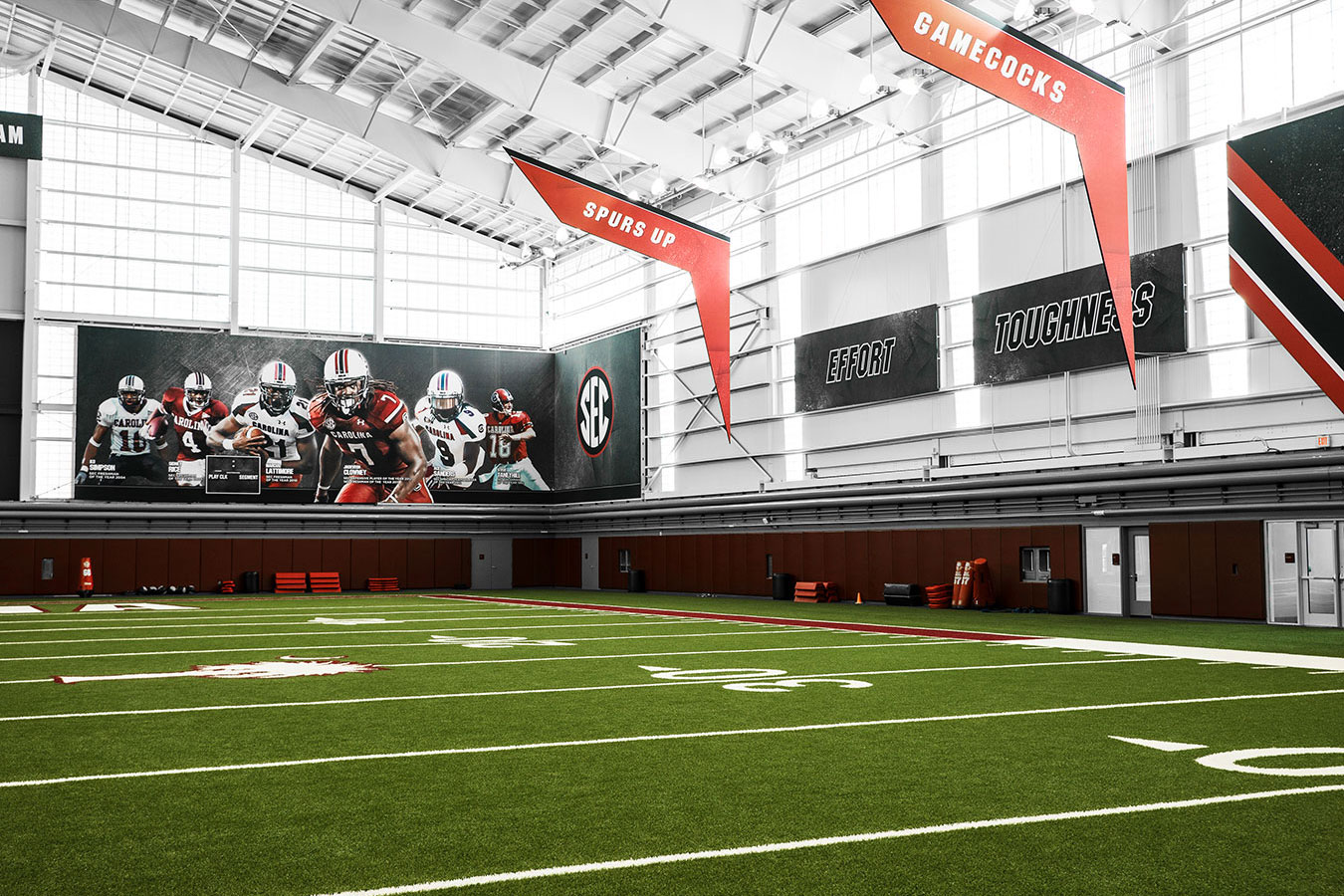 "They also had all these nice slatted windows that we didn't want to cover. In the SEC graphic, we have this cool effect where there is actually some glare on their helmets. That was in the original image, but with the light coming in, it actually looks like it's happening."
"One of the challenges of this space was some ductwork and air returns behind the goalpost. We couldn't cover it up. We chose to keep a band of black throughout the facility to draw your eye away from that big air return."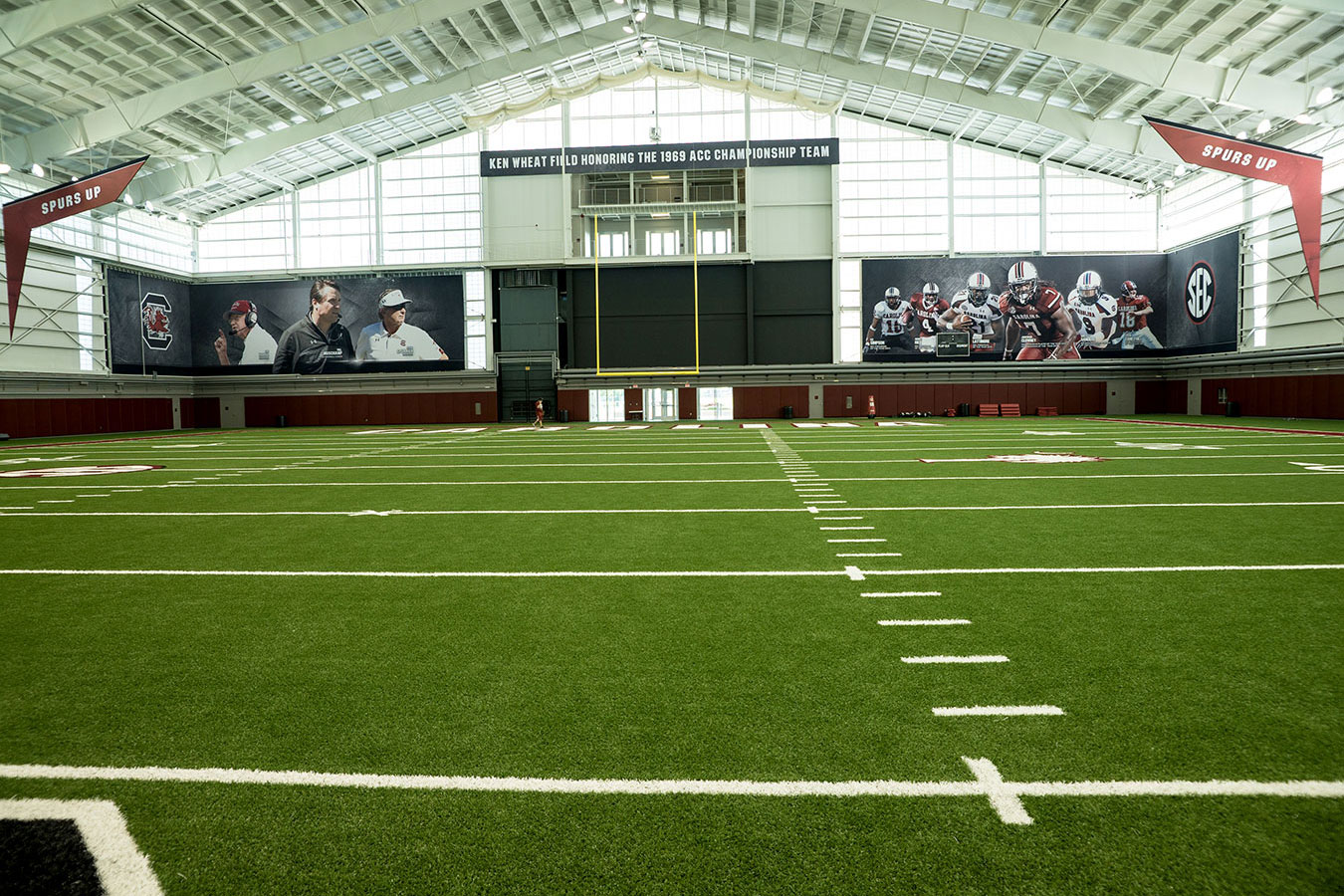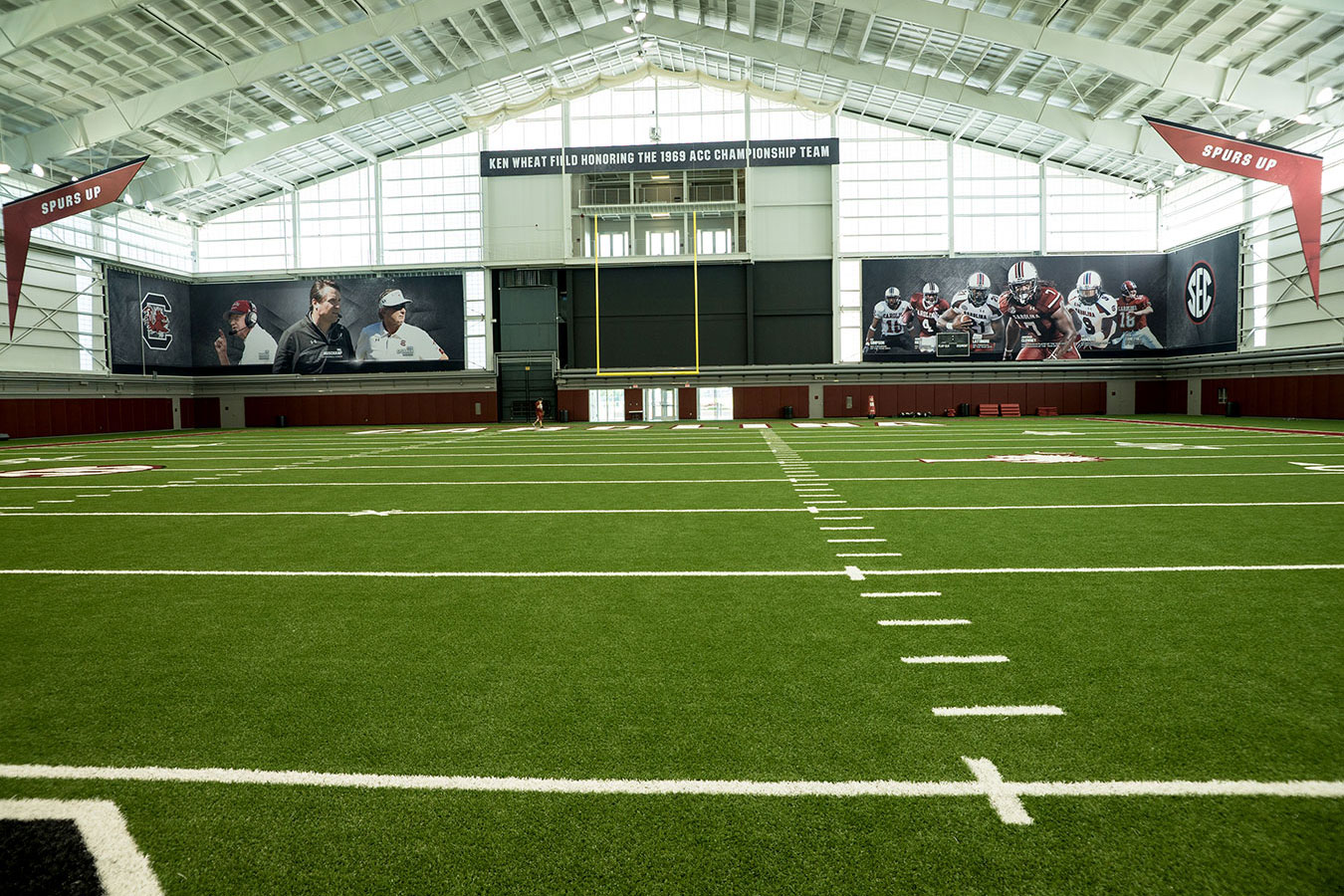 "South Carolina fans have an unofficial fight song with 'Sandstorm.' The crowd gets into it. South Carolina uses it across all sports. They've built brand messaging around this song. The football program uses the phrase, 'a sandstorm builds within.' They wanted to use the energy around that. We added it to this huge graphic in the end zone to simulate the energy around game day."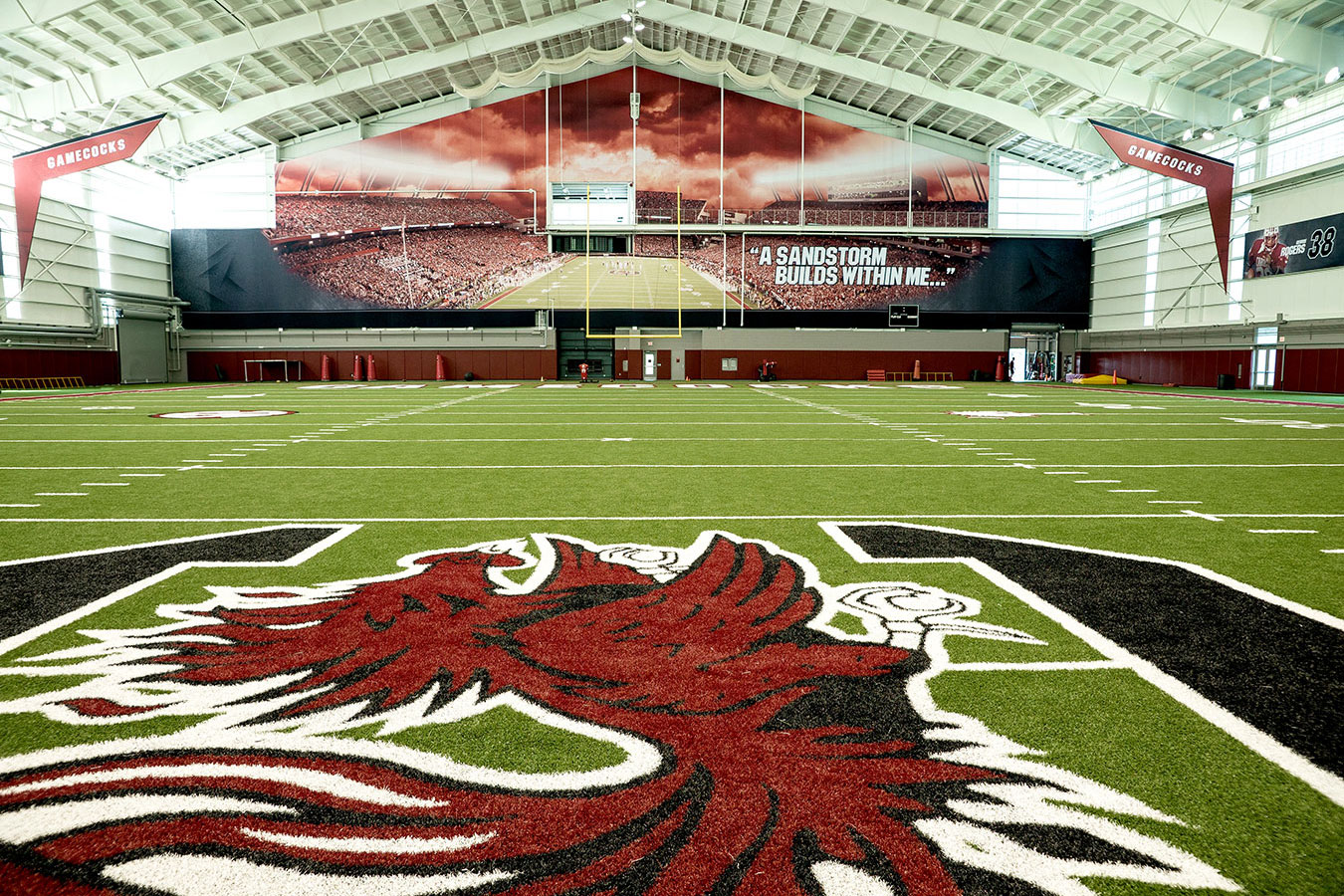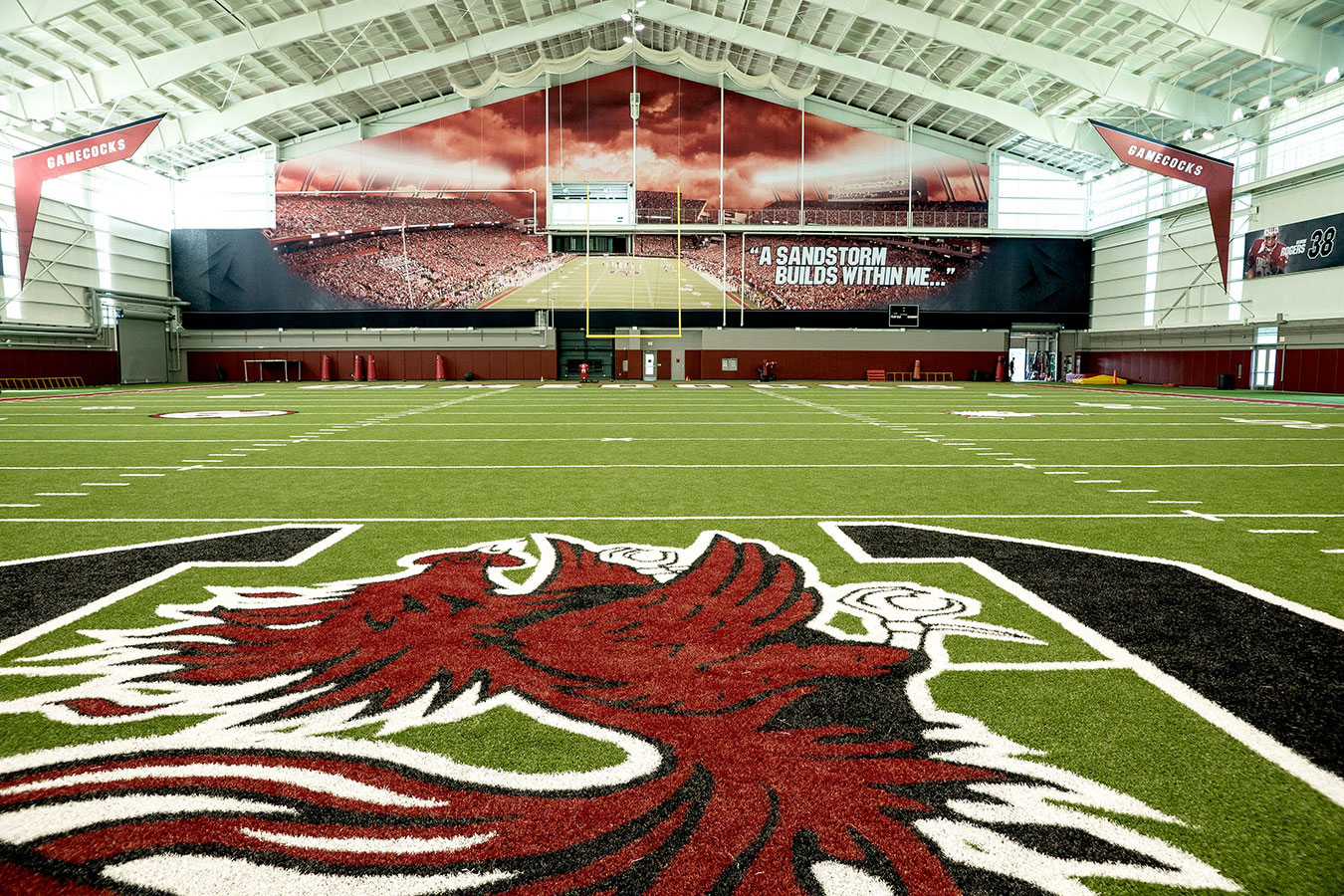 "In the entryway, they wanted an 'Instagram-able' moment. They were big on this idea of being able to run through the smoke with the team, which is something they do before every home game. We decided to put that in the background with a backlit logo."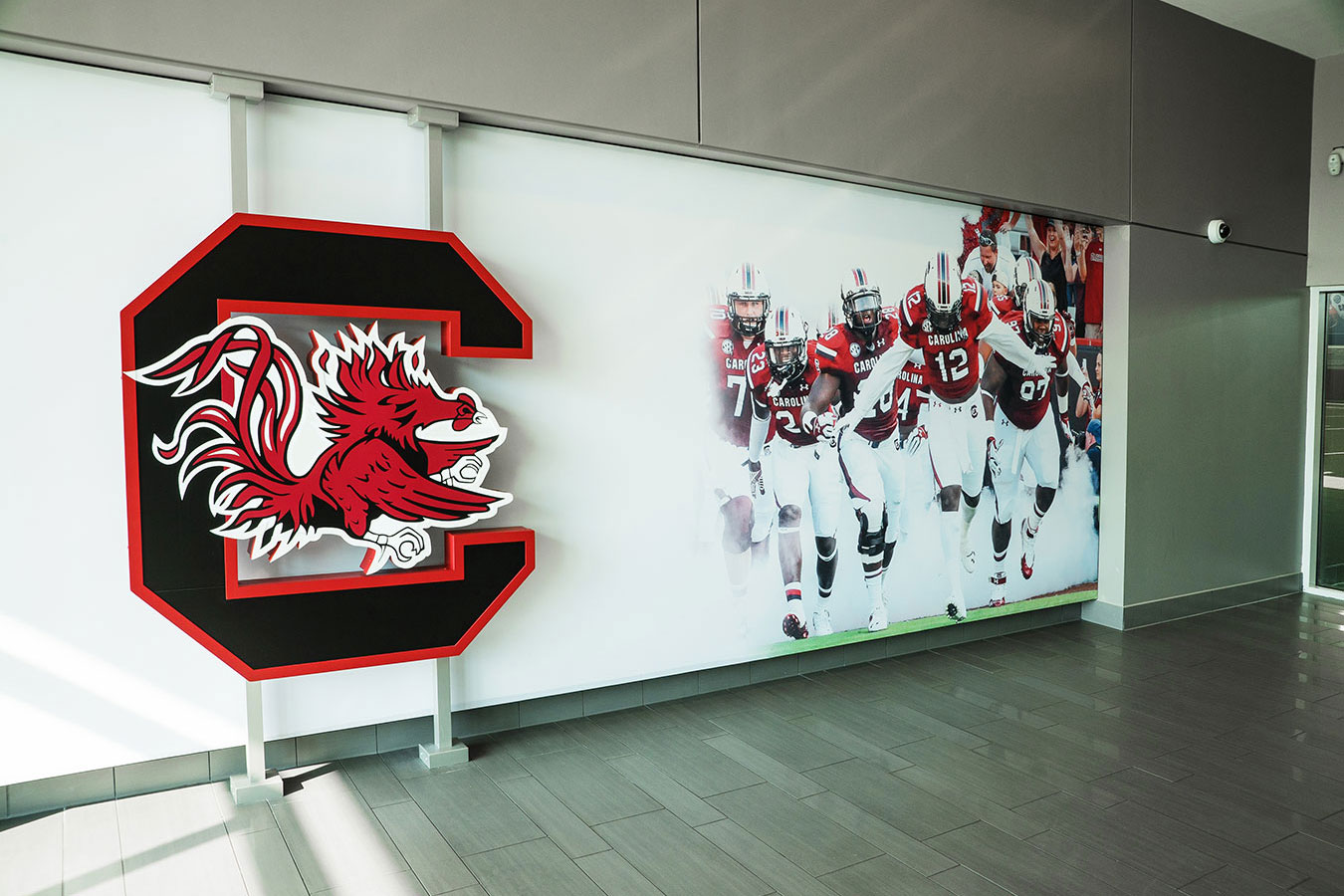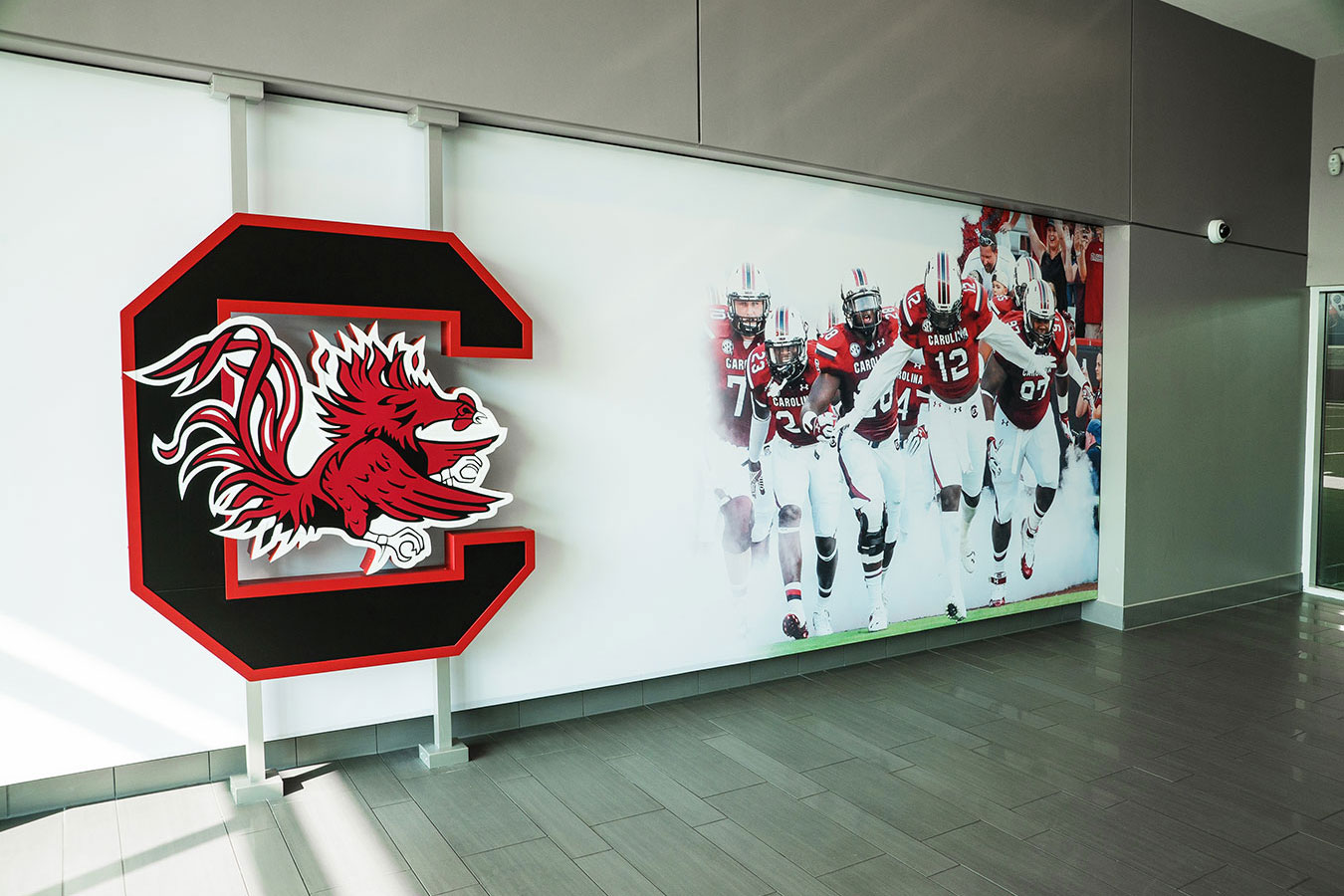 "The challenge in any practice facility is the size of empty space to fill. Square footage is super-expensive in a place like this. It also became clear that you don't have to go overboard by trying to install dimensional text or elements because you won't get the same effect. Graphics on the wall go further, but you have to be mindful of where you put them. To stay within budget, we had to be more strategic in finding the specific spots that are most impactful for graphics."
Advent is continuing to work with South Carolina in its basketball offices and has also designed graphics for indoor football practice facilities at Auburn and Virginia.